700801 - Lecture SB 02.01.11 - Los Angeles
From Vanisource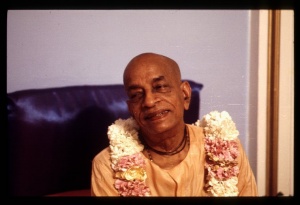 Listen to a 'Nectar Drop' created from this lecture
700801SB-LOS ANGELES - August 01, 1970 - 28:47 Minutes

(Govindam record plays) (break) (long pause)
(Govindam record plays) (break) (long pause)
Prabhupāda: (indistinct) Hare Rama Hare Rama, Rama Rama . . . and where is the center . . . (indistinct) . . . Devotee: I am just from New York.
Prabhupāda: Oh? Where is that slip yesterday you gave me? That mantra, nṛsiṁha-mantra? There was one extra mantra. You have got, everyone, slip? This. Namas te, narasiṁhāya, prahlāda, hlāda-dāyine, hiraṇyakaśipor, vakṣaḥ, śilā-ṭaṅka, nakhālaye.
namas te narasiṁhāya
prahlādāhlāda-dāyine
hiraṇyakaśipor vakṣaḥ-
śilā-ṭaṅka-nakhālaye
ito nṛsiṁhaḥ parato nṛsiṁho
yato yato yāmi tato nṛsiṁhaḥ
bahir nṛsiṁho hṛdaye nṛsiṁho
nṛsiṁham ādiṁ śaraṇaṁ prapadye
(devotees sing with Prabhupāda)
tava kara-kamala-vare nakham adbhuta-śṛṅgaṁ
dalita-hiraṇyakaśipu-tanu-bhṛṅgam
keśava dhṛta-narahari-rūpa jaya jagadīśa hare
jaya jagadīśa hare, jaya jagadīśa hare
Again repeat the first mantra. (devotees repeat the first mantras and Śrīla Prabhupāda sings the second with them)
The first one again repeat. (repeats)
The meaning of this mantra, that "I offer my humble obeisances to Lord Nṛsiṁha, who is the source of bliss to Prahlāda but," hiraṇyakaśipor vakṣaḥ, "but his father, Hiraṇyakaśipu, on his chest the nails of His finger is just like chisel cutting the stone."
The same Personality of Godhead is prahlāda āhlāda-dāyine. Āhlāda means pleasure. For Prahlāda . . . Prakṛṣṭa-rūpeṇāhlāda, prahlāda. A devotee is, being always in Kṛṣṇa consciousness, naturally he is in blissfulness. Still more, when he meets or associates with his Lord, still more blissfulness. That is the position of the theist devotee. Whereas the atheist nondevotee, he's always feeling like a strike of the chisel, like . . . what do you call? Stone cutting chisel. Nakha. Nakhālaye. Simply by the nails of His finger. All right.
Where is that book? Now this Bhāgavatam. Yes. Oṁ namo bhagavate vāsudevāya.
śrī-śuka uvāca
varīyān eṣa te praśnaḥ
kṛto loka-hitaṁ nṛpa
ātmavit-sammataḥ puṁsāṁ
śrotavyādiṣu yaḥ paraḥ
(SB 2.1.1)
śrotavyādīni rājendra
nṛṇāṁ santi sahasraśaḥ
apaśyatām ātma-tattvaṁ
gṛheṣu gṛha-medhinām
(SB 2.1.2)
nidrayā hriyate naktaṁ
vyavāyena ca vā vayaḥ
divā cārthehayā rājan
kuṭumba-bharaṇena vā
(SB 2.1.3)
dehāpatya-kalatrādiṣv
ātma-sainyeṣv asatsv api
teṣāṁ pramatto nidhanaṁ
paśyann api na paśyati
(SB 2.1.4)
tasmād bhārata sarvātmā
bhagavān īśvaro hariḥ
śrotavyaḥ kīrtitavyaś ca
smartavyaś cecchatābhayam
(SB 2.1.5)
etāvān sāṅkhya-yogābhyāṁ
sva-dharma-pariniṣṭhayā
janma-lābhaḥ paraḥ puṁsām
ante nārāyaṇa-smṛtiḥ
(SB 2.1.6)
prāyeṇa munayo rājan
nivṛttā vidhi-ṣedhataḥ
nairguṇya-sthā ramante sma
guṇānukathane hareḥ
(SB 2.1.7)
idaṁ bhāgavataṁ nāma
purāṇaṁ brahma-sammitam
adhītavān dvāparādau
pitur dvaipāyanād aham
(SB 2.1.8)
pariniṣṭhito 'pi nairguṇya
uttama-śloka-līlayā
gṛhīta-cetā rājarṣe
ākhyānaṁ yad adhītavān
(SB 2.1.9)
tad ahaṁ te 'bhidhāsyāmi
mahā-pauruṣiko bhavān
yasya śraddadhatām āśu
syān mukunde matiḥ satī
Prabhupāda: Then here text number 11.
etan nirvidyamānānām
icchatām akuto-bhayam
yogināṁ nṛpa nirṇītaṁ
harer nāmānukīrtanam
Prabhupāda: Again.
Again.
(12:54)
Etan nirvidyamānānām. There are three classes of men. One class of men, karmīs, they are trying to enjoy the material resources. Icchatām, always desire: "I want this, I want this, I want this." And another class, they are con . . . or rather, what is called? Frustrated. After trying utmost, "I want this, I want this, I want this," when at the end do not get anything, he is frustrated. That is called nirvidyā. "I don't want." Or actually one is satiated or disgusted: "No more material world. I don't want it." They are called nirvidyamānām. So the one class is trying to possess, and another class is trying to renounce: "I don't want."
And another class is akuto-bhayam. Akuto-bhayam. Who is akuto-bhayam? Akuto-bhayam means one who does not fear. And who does not fear? Because fearfulness is one of the items of our conditional life. Āhāra-nidrā-bhaya-maithuna (Hitopadeśa): eating, sleeping, fearing and mating. So who is without any fear? That means he's also liberated. He's not in the material platform: transcendental, who is out of the limits of fearfulness.
So akuto-bhayam means the devotees. The devotees, just like Prahlāda Mahārāja, his father teased him in so many ways, but he was not at all fearful. He was simply thinking of Nṛsiṁha-deva and he was fearless. So only the devotee who has fully surrendered to Kṛṣṇa, he can be fearless. Nārāyaṇa-parāḥ sarve na kutaścana bibhyati (SB 6.17.28). Nārāyaṇa-parāḥ means devotees who have dedicated their life to the service of Nārāyaṇa, Kṛṣṇa. Na kutaścana bibhyati. He does not fear in any condition of life.
So here, icchatām akutaḥ. Icchatām means those who are desiring. Nirvidyamānām means those who are not desiring; renouncing. And the other class, akuto-bhayam, fearless. And yoginām. Another class—mystic yogīs. So generally, these four classes men are there. So Śukadeva Gosvāmī says that for all of them, either he is karmī or he is jñānī or he is yogī or he is bhakta. Karmī means fruitive worker, and jñānīs means empiric philosopher, and yogīs, mystic, I mean to say, yogīs, and bhaktas, and the devotees. Generally, these four classes of men.
So Śukadeva Gosvāmī gives his judgment. Nṛpa, "My dear king, for all these classes of men," nirṇītam, "it is already decided." This is Vedic conclusion. You haven't got to search out. You have to take information from the authority. So here Śukadeva Gosvāmī is authority, that "For all these classes of men, this is decided conclusively." What is that? Harer nāmānukīrtanam (SB 2.1.11): chant Hare Kṛṣṇa. Either you are jñānī, either you are yogī, either you are karmī, you desiring something or not desiring something, but you have got your objective, perfection of life. So if you want that, then chant Hare Kṛṣṇa, Hare Kṛṣṇa, Kṛṣṇa Kṛṣṇa, Hare Hare/ Hare Rāma, Hare Rāma, Rāma Rāma, Hare Hare.
Thank you very much.
Devotees: All glories to Śrīla Prabhupāda.
Karandhara: We're going to pose. We're just about ready. Everyone can pose?
Prabhupāda: This is all right. Oh, yes, special pose.
Karandhara: If everyone stands up and dances, then we won't be able to . . . you can sit for just a minute longer.
Prabhupāda: So chant Hare Kṛṣṇa. Sit down for a moment. (japa) Chant. Chant.
(18:57) (Viṣṇujana leads kīrtana) (Prabhupāda plays gong) (prema-dhvani) (end)