720129 - Letter to Satsvarupa written from Nairobi
From Vanisource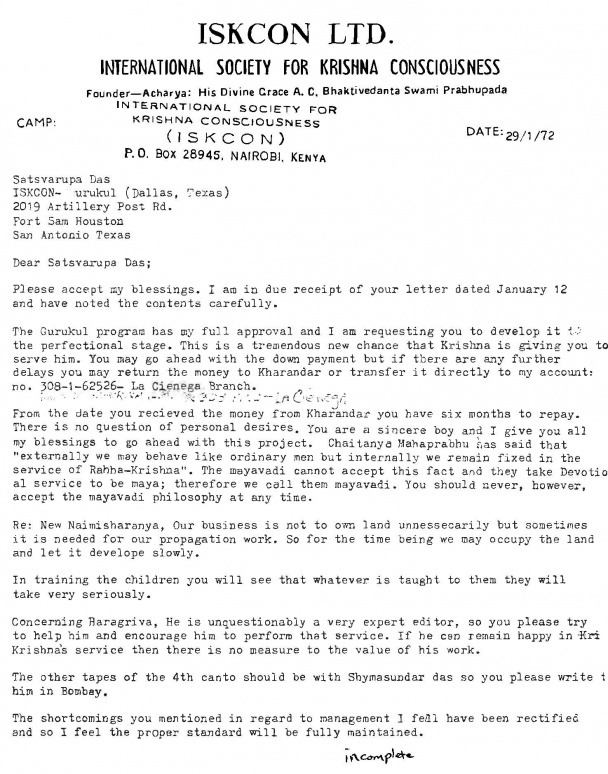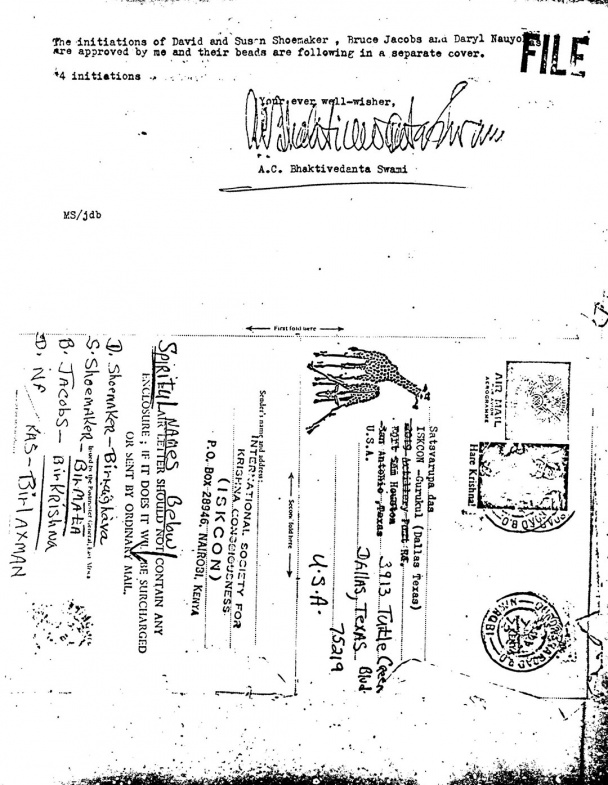 ISKCON LTD.
INTERNATIONAL SOCIETY FOR KRISHNA CONSCIOUSNESS
Founder-Acharya: His Divine Grace A.C. Bhaktivedanta Swami Prabhupada
CAMP:      INTERNATIONAL SOCIETY FOR
                  KRISHNA CONSCIOUSNESS
                       (ISKCON)
                 P.O. Box 28945, NAIROBI, KENYA
DATE:29/1/72
Satsvarupa Das,
ISKCON- Gurukul, (Dallas, Texas)
2019 Artillery Post Rd.
Fort Sam Houston
San Antono Texas
Dear Satsvarupa Das;
Please accept my blessings. I am in due receipt of your letter dated January 12 and have noted the contents carefully.
The Gurukul program has my full approval and I am requesting you to develop it to the perfectional stage. This is a tremendous new chance that Krishna is giving you to serve him. You may go ahead with the down payment but if there are any further delays you may return the money to Karandhar or transfer it directly to my account: no. 308-1-62526- La Cienega Branch.
[unclear]
From the date you received the money from Karandhar you have six months to repay. There is no question of personal desires. You are a sincere boy and I give you all my blessings to go ahead with this project. Chaitanya Mahaprabhu has said that "externally we may behave like ordinary men but internally we remain fixed in the service of Radha-Krishna." The mayavadi cannot accept this fact and they take Devotional service to be maya; therefore we call them mayavadi. You should never, however, accept the mayavadi philosophy, at any time.
Re: New Naimisharanya, Our business is not to own land unnecessarily but sometimes it is needed for our propagation work. So for the time being we may occupy the land and let it develop slowly.
In training the children you will see that whatever is taught to them they will take very seriously.
Concerning Haragriva, he is unquestionably a very expert editor, so you please try to help him and encourage him to perform that service. If he can remain happy in Krishna's service then there is no measure to the value of his work.
The other tapes of the 4th canto should be with Shymasundar das so you please write to him in Bombay.
The shortcomings you mentioned in regard to management I feel have been rectified and so I feel the proper standard will be fully maintained.
The initiation of David and Susan Shomaker, Bruce Jacobs and Daryl Nauyokas are approved by me and their beads are following in a separate cover.
* 4 initiations.

Your ever well-wisher,



A.C. Bhaktivedanta Swami



MS/jdb

Satsvarupa das
ISKCON -Gurukul (Dallas Texas)
3913 Turtle Career [handwritten]
DALLASS, AXES. [handwritten]
75219 [handwritten]
U.S.A. [handwritten]

INTERNATIONAL SOCIETY FOR
KRISHNA CONSCIOUSNESS
(ISKCON)
P.O. BOX 28946. NAIROBI. KENYA

SPIRITUAL NAMES BELOW [handwritten]
AIR LETTER SHOULD NOT CONTAIN ANY
ENCLOSURE; IF IT DOES IT WILL BE SURCHARGED
OR SENT BY ORDINARY MAIL...
D. ShomaKER—Bir Raghava
S. Shomaker—Bir MALA
B. Jacobs—Bir Krishna
D. Nauyokas— Bir LAKSHMAN [handwritten]