Radharani

Krishna

Caitanya

God

God's Holy Names

Krishna Consciousness Movement

Who Is Srila Prabhupada

his Timeline

Months in his Life

Training his Disciples

Questions

Bhagavad-gita

Devotees of God

Devotional Service to God

Discipleship

Guru / Acharya

Essential Subjects

Nectar Drops

What's in Vanipedia now

Glorious Personalities

Yoga

Collaborate with us to invoke and fully manifest Srila Prabhupada's Vani-presence.
---
SB 4.10.21
From Vanisource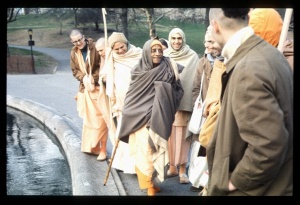 TEXT 21
apaśyamānaḥ sa tadātatāyinaṁ
mahā-mṛdhe kañcana mānavottamaḥ
purīṁ didṛkṣann api nāviśad dviṣāṁ
na māyināṁ veda cikīrṣitaṁ janaḥ
SYNONYMS
apaśyamānaḥ—while not observing; saḥ—Dhruva; tadā—at that time; ātatāyinam—armed opposing soldiers; mahā-mṛdhe—in that great battlefield; kañcana—any; mānava-uttamaḥ—the best of the human beings; purīm—the city; didṛkṣan—wishing to see; api—although; na āviśat—did not enter; dviṣām—of the enemies; na—not; māyinām—of the mystics; veda—knows; cikīrṣitam—the plans; janaḥ—anyone.
TRANSLATION
Dhruva Mahārāja, the best of human beings, observed that in that great battlefield not one of the opposing soldiers was left standing with proper weapons. He then desired to see the city of Alakāpurī, but he thought to himself, "No one knows the plans of the mystic Yakṣas."