Radharani

Krishna

Caitanya

God

God's Holy Names

Krishna Consciousness Movement

Who Is Srila Prabhupada

his Timeline

Months in his Life

Training his Disciples

Questions

Bhagavad-gita

Devotees of God

Devotional Service to God

Discipleship

Guru / Acharya

Essential Subjects

Nectar Drops

What's in Vanipedia now

Glorious Personalities

Yoga

Collaborate with us to invoke and fully manifest Srila Prabhupada's Vani-presence.
---
SB 4.10.20
From Vanisource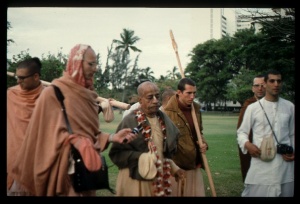 TEXT 20
hatāvaśiṣṭā itare raṇājirād
rakṣo-gaṇāḥ kṣatriya-varya-sāyakaiḥ
prāyo vivṛkṇāvayavā vidudruvur
mṛgendra-vikrīḍita-yūthapā iva
SYNONYMS
hata-avaśiṣṭāḥ—the remaining soldiers who were not killed; itare—others; raṇa-ajirāt—from the battlefield; rakṣaḥ-gaṇāḥ—the Yakṣas; kṣatriya-varya—of the greatest of the kṣatriyas, or warriors; sāyakaiḥ—by the arrows; prāyaḥ—mostly; vivṛkṇa—cut to pieces; avayavāḥ—their bodily limbs; vidudruvuḥ—fled; mṛgendra—by a lion; vikrīḍita—being defeated; yūthapāḥ—elephants; iva—like.
TRANSLATION
The remaining Yakṣas who somehow or other were not killed had their limbs cut to pieces by the arrows of the great warrior Dhruva Mahārāja. Thus they began to flee, just as elephants flee when defeated by a lion.