Radharani

Krishna

Caitanya

God

God's Holy Names

Krishna Consciousness Movement

Who Is Srila Prabhupada

his Timeline

Months in his Life

Training his Disciples

Questions

Bhagavad-gita

Devotees of God

Devotional Service to God

Discipleship

Guru / Acharya

Essential Subjects

Nectar Drops

What's in Vanipedia now

Glorious Personalities

Yoga

Collaborate with us to invoke and fully manifest Srila Prabhupada's Vani-presence.
---
SB 4.10.22
From Vanisource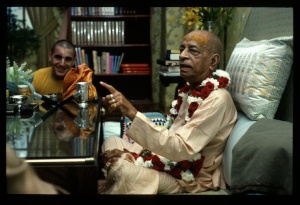 TEXT 22
iti bruvaṁś citra-rathaḥ sva-sārathiṁ
yattaḥ pareṣāṁ pratiyoga-śaṅkitaḥ
śuśrāva śabdaṁ jaladher iveritaṁ
nabhasvato dikṣu rajo 'nvadṛśyata
SYNONYMS
iti—thus; bruvan—talking; citra-rathaḥ—Dhruva Mahārāja, whose chariot was very beautiful; sva-sārathim—to his charioteer; yattaḥ—being on guard; pareṣām—from his enemies; pratiyoga—counterattack; śaṅkitaḥ—being apprehensive; śuśrāva—heard; śabdam—sound; jaladheḥ—from the ocean; iva—as if; īritam—resounded; nabhasvataḥ—because of wind; dikṣu—in all directions; rajaḥ—dust; anu—then; adṛśyata—was perceived.
TRANSLATION
In the meantime, while Dhruva Mahārāja, doubtful of his mystic enemies, was talking with his charioteer, they heard a tremendous sound, as if the whole ocean were there, and they found that from the sky a great dust storm was coming over them from all directions.