Radharani

Krishna

Caitanya

God

God's Holy Names

Krishna Consciousness Movement

Who Is Srila Prabhupada

his Timeline

Months in his Life

Training his Disciples

Questions

Bhagavad-gita

Devotees of God

Devotional Service to God

Discipleship

Guru / Acharya

Essential Subjects

Nectar Drops

What's in Vanipedia now

Glorious Personalities

Yoga

Collaborate with us to invoke and fully manifest Srila Prabhupada's Vani-presence.
---
SB 7.7.13
From Vanisource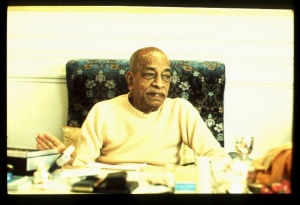 TEXT 13
tathety avātsīd devarṣer
antike sākuto-bhayā
yāvad daitya-patir ghorāt
tapaso na nyavartata
SYNONYMS
tathā—so be it; iti—thus; avātsīt—lived; deva-ṛṣeḥ—Devarṣi Nārada; antike—near; sā—she (my mother); akuto-bhayā—without fear from any direction; yāvat—as long as; daitya-patiḥ—my father, Hiraṇyakaśipu, the lord of the demons; ghorāt—from very severe; tapasaḥ—austerities; na—not; nyavartata—ceased.
TRANSLATION
After accepting the instructions of Devarṣi Nārada, my mother stayed in his care, without fear from any direction, as long as my father, the King of the Daityas, had not become free from his severe austerities.