Radharani

Krishna

Caitanya

God

God's Holy Names

Krishna Consciousness Movement

Who Is Srila Prabhupada

his Timeline

Months in his Life

Training his Disciples

Questions

Bhagavad-gita

Devotees of God

Devotional Service to God

Discipleship

Guru / Acharya

Essential Subjects

Nectar Drops

What's in Vanipedia now

Glorious Personalities

Yoga

Collaborate with us to invoke and fully manifest Srila Prabhupada's Vani-presence.
---
SB 7.2.4-5
From Vanisource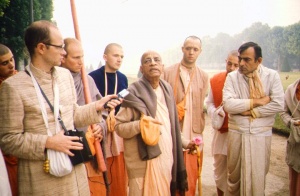 TEXTS 4-5
bho bho dānava-daiteyā
dvimūrdhaṁs tryakṣa śambara
śatabāho hayagrīva
namuce pāka ilvala
vipracitte mama vacaḥ
puloman śakunādayaḥ
śṛṇutānantaraṁ sarve
kriyatām āśu mā ciram
SYNONYMS
bhoḥ—O; bhoḥ—O; dānava-daiteyāḥ—Dānavas and Daityas; dvi-mūrdhan—Dvimūrdha (two-headed); tri-akṣa—Tryakṣa (three-eyed); śambara—Śambara; śata-bāho—Śatabāhu (hundred-armed); hayagrīva—Hayagrīva (horse-headed); namuce—Namuci; pāka—Pāka; ilvala—Ilvala; vipracitte—Vipracitti; mama—my; vacaḥ—words; puloman—Puloma; śakuna—Śakuna; ādayaḥ—and others; śṛṇuta—just hear; anantaram—after that; sarve—all; kriyatām—let it be done; āśu—quickly; mā—do not; ciram—delay.
TRANSLATION
O Dānavas and Daityas! O Dvimūrdha, Tryakṣa, Śambara and Śatabāhu ! O Hayagrīva, Namuci, Pāka and Ilvala! O Vipracitti, Puloman, Śakuna and other demons! All of you, kindly hear me attentively and then act according to my words without delay.