Radharani

Krishna

Caitanya

God

God's Holy Names

Krishna Consciousness Movement

Who Is Srila Prabhupada

his Timeline

Months in his Life

Training his Disciples

Questions

Bhagavad-gita

Devotees of God

Devotional Service to God

Discipleship

Guru / Acharya

Essential Subjects

Nectar Drops

What's in Vanipedia now

Glorious Personalities

Yoga

Collaborate with us to invoke and fully manifest Srila Prabhupada's Vani-presence.
---
SB 7.2.33
From Vanisource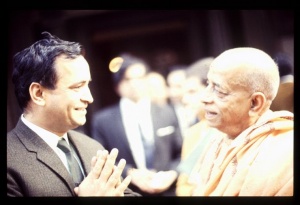 TEXT 33
aho vidhātrākaruṇena naḥ prabho
bhavān praṇīto dṛg-agocarāṁ daśām
uśīnarāṇām asi vṛttidaḥ purā
kṛto 'dhunā yena śucāṁ vivardhanaḥ
SYNONYMS
aho—alas; vidhātrā—by providence; akaruṇena—who is merciless; naḥ—our; prabho—O lord; bhavān—Your Lordship; praṇītaḥ—taken away; dṛk—of sight; agocarām—beyond the range; daśām—to a state; uśīnarāṇām—to the inhabitants of the state of Uśīnara; asi—you were; vṛtti-daḥ—giving livelihood; purā—formerly; kṛtaḥ—finished; adhunā—now; yena—by whom; śucām—of lamentation; vivardhanaḥ—increasing.
TRANSLATION
O lord, you have now been removed by cruel providence to a state beyond our sight. You had previously sustained the livelihood of the inhabitants of Uśīnara, and thus they were happy, but your condition now is the cause of their unhappiness.