SB 10.38.37-38
From Vanisource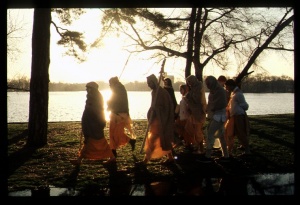 Please note: The synonyms, translation and purport of this verse were composed by disciples of Śrīla Prabhupāda
TEXTS 37-38
saṅkarṣaṇaś ca praṇatam
upaguhya mahā-manāḥ
gṛhītvā pāṇinā pāṇī
anayat sānujo gṛham
pṛṣṭvātha sv-āgataṁ tasmai
nivedya ca varāsanam
prakṣālya vidhi-vat pādau
madhu-parkārhaṇam āharat
SYNONYMS
saṅkarṣaṇaḥ—Lord Balarāma; ca—and; praṇatam—who was standing with his head bowed; upaguhya—embracing; mahā-manāḥ—magnanimous; gṛhītvā—taking hold of; pāṇinā—with His hand; pāṇī—his two hands; anayat—He took; sa-anujaḥ—with His younger brother (Lord Kṛṣṇa); gṛham—to His residence; pṛṣṭvā—inquiring; atha—then; su-āgatam—about the comfort of his trip; tasmai—to him; nivedya—offering; ca—and; vara—excellent; āsanam—a seat; prakṣālya—washing; vidhi-vat—in accordance with scriptural injunctions; pādau—his feet; madhu-parka—honey mixed with milk; arhaṇam—as a respectful offering; āharat—He brought.
Translation and purport composed by disciples of Śrīla Prabhupāda
---
TRANSLATION
As Akrūra stood with his head bowed, Lord Saṅkarṣaṇa [Balarāma] grasped his joined hands, and then Balarāma took him to His house in the company of Lord Kṛṣṇa. After inquiring from Akrūra whether his trip had been comfortable, Balarāma offered him a first-class seat, bathed his feet in accordance with the injunctions of scripture and respectfully served him milk with honey.