Radharani

Krishna

Caitanya

God

God's Holy Names

Krishna Consciousness Movement

Who Is Srila Prabhupada

his Timeline

Months in his Life

Training his Disciples

Questions

Bhagavad-gita

Devotees of God

Devotional Service to God

Discipleship

Guru / Acharya

Essential Subjects

Nectar Drops

What's in Vanipedia now

Glorious Personalities

Yoga

Collaborate with us to invoke and fully manifest Srila Prabhupada's Vani-presence.
---
CC Adi 4.70
From Vanisource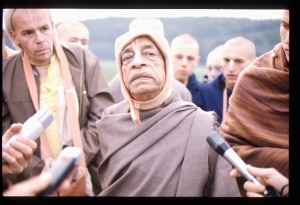 TEXT 70
tayor apy ubhayor madhye
rādhikā sarvathādhikā
mahābhāva-svarūpeyaṁ
guṇair ativarīyasī
SYNONYMS
tayoḥ—of them; api—even; ubhayoḥ—of both (Candrāvalī and Rādhārāṇī); madhye—in the middle; rādhikā—Śrīmatī Rādhārāṇī; sarvathā—in every way; adhikā—greater; mahā-bhāva-svarūpā—the form of mahābhāva; iyam—this one; guṇaiḥ—with good qualities; ativarīyasī—the best of all.
TRANSLATION
"Of these two gopīs [Rādhārāṇī and Candrāvalī], Śrīmatī Rādhārāṇī is superior in all respects. She is the embodiment of mahābhāva, and She surpasses all in good qualities."
PURPORT
This is a quotation from Śrīla Rūpa Gosvāmī's Ujjvala-nīlamaṇi (Rādhā-prakaraṇa 3).