Radharani

Krishna

Caitanya

God

God's Holy Names

Krishna Consciousness Movement

Who Is Srila Prabhupada

his Timeline

Months in his Life

Training his Disciples

Questions

Bhagavad-gita

Devotees of God

Devotional Service to God

Discipleship

Guru / Acharya

Essential Subjects

Nectar Drops

What's in Vanipedia now

Glorious Personalities

Yoga

Collaborate with us to invoke and fully manifest Srila Prabhupada's Vani-presence.
---
CC Adi 4.242-243
From Vanisource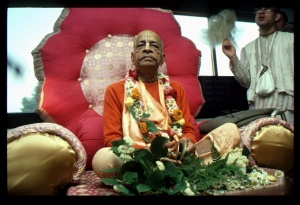 TEXTS 242-243
koṭi-kāma jini' rūpa yadyapi āmāra
asamordhva-mādhurya—sāmya nāhi yāra
mora rūpe āpyāyita haya tribhuvana
rādhāra darśane mora juḍāya nayana
SYNONYMS
koṭi-kāma—ten million Cupids; jini'—conquering; rūpa—beauty; yadyapi—although; āmāra—Mine; asama-ūrdhva—unequaled and unsurpassed; mādhurya—sweetness; sāmya—equality; nāhi—there is not; yāra—of whom; mora—My; rūpe—in beauty; āpyāyita—pleased; haya—becomes; tri-bhuvana—all three worlds; rādhāra—of Śrīmatī Rādhārāṇī; darśane—seeing; mora—My; juḍāya—satisfies; nayana—eyes.
TRANSLATION
"Although My beauty defeats the beauty of ten million Cupids, although it is unequaled and unsurpassed, and although it gives pleasure to the three worlds, seeing Rādhārāṇī gives pleasure to My eyes.