Radharani

Krishna

Caitanya

God

God's Holy Names

Krishna Consciousness Movement

Who Is Srila Prabhupada

his Timeline

Months in his Life

Training his Disciples

Questions

Bhagavad-gita

Devotees of God

Devotional Service to God

Discipleship

Guru / Acharya

Essential Subjects

Nectar Drops

What's in Vanipedia now

Glorious Personalities

Yoga

Collaborate with us to invoke and fully manifest Srila Prabhupada's Vani-presence.
---
CC Adi 17.22
From Vanisource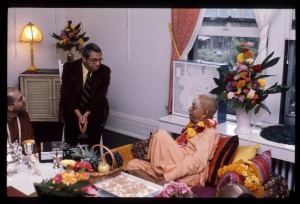 TEXT 22
kali-kāle nāma-rūpe kṛṣṇa-avatāra
nāma haite haya sarva-jagat-nistāra
SYNONYMS
kali-kāle—in this Age of Kali; nāma-rūpe—in the form of the holy name; kṛṣṇa—Lord Kṛṣṇa; avatāra—incarnation; nāma—holy name; haite—from; haya—becomes; sarva—all; jagat—of the world; nistāra—deliverance.
TRANSLATION
"In this Age of Kali, the holy name of the Lord, the Hare Kṛṣṇa mahā-mantra, is the incarnation of Lord Kṛṣṇa. Simply by chanting the holy name, one associates with the Lord directly. Anyone who does this is certainly delivered.