Radharani

Krishna

Caitanya

God

God's Holy Names

Krishna Consciousness Movement

Who Is Srila Prabhupada

his Timeline

Months in his Life

Training his Disciples

Questions

Bhagavad-gita

Devotees of God

Devotional Service to God

Discipleship

Guru / Acharya

Essential Subjects

Nectar Drops

What's in Vanipedia now

Glorious Personalities

Yoga

Collaborate with us to invoke and fully manifest Srila Prabhupada's Vani-presence.
---
CC Adi 17.178-179
From Vanisource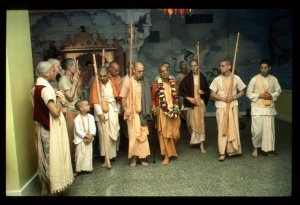 TEXTS 178-179
kājī kahe,—yabe āmi hindura ghare giyā
kīrtana kariluṅ mānā mṛdaṅga bhāṅgiyā
sei rātre eka siṁha mahā-bhayaṅkara
nara-deha, siṁha-mukha, garjaye vistara
SYNONYMS
kājī kahe—the Kazi replied; yabe—when; āmi—I; hindura—of a Hindu; ghare—in the house; giyā—going there; kīrtana—chanting of the holy name; kariluṅ—made; mānā—prohibition; mṛdaṅga—the drum; bhāṅgiyā—breaking; sei rātre—on that night; eka—one; siṁha—lion; mahā-bhayaṅ-kara—very fearful; nara-deha—having a body like a human being's; siṁha-mukha—having a face like a lion's; garjaye—was roaring; vistara—very loudly.
TRANSLATION
The Kazi said, "When I went to the Hindu's house, broke the drum and forbade the performance of congregational chanting, in my dreams that very night I saw a greatly fearful lion, roaring very loudly, His body like a human being's and His face like a lion's.