Radharani

Krishna

Caitanya

God

God's Holy Names

Krishna Consciousness Movement

Who Is Srila Prabhupada

his Timeline

Months in his Life

Training his Disciples

Questions

Bhagavad-gita

Devotees of God

Devotional Service to God

Discipleship

Guru / Acharya

Essential Subjects

Nectar Drops

What's in Vanipedia now

Glorious Personalities

Yoga

Collaborate with us to invoke and fully manifest Srila Prabhupada's Vani-presence.
---
BG 11.25 (1972)
From Vanisource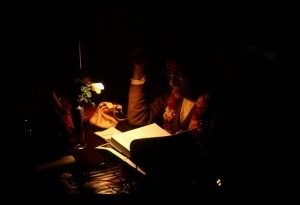 TEXT 25
दंष्ट्राकरालानि च ते मुखानि
दृष्ट्वैव कालानलसन्निभानि ।
दिशो न जाने न लभे च शर्म
प्रसीद देवेश जगन्निवास ॥२५॥
daṁṣṭrā-karālāni ca te mukhāni
dṛṣṭvaiva kālānala-sannibhāni
diśo na jāne na labhe ca śarma
prasīda deveśa jagan-nivāsa
SYNONYMS
daṁṣṭrā—teeth; karālāni—like that; ca—also; te—Your; mukhāni—faces; dṛṣṭvā—seeing; eva—thus; kālānala—the fire of death; sannibhāni—as if blazing; diśaḥ—directions; na jāne—do not know; na labhe—nor obtain; ca śarma—and grace; prasīda—be pleased; deveśa—O Lord of all lords; jagat-nivāsa—refuge of the worlds.
TRANSLATION
O Lord of lords, O refuge of the worlds, please be gracious to me. I cannot keep my balance seeing thus Your blazing deathlike faces and awful teeth. In all directions I am bewildered.