Radharani

Krishna

Caitanya

God

God's Holy Names

Krishna Consciousness Movement

Who Is Srila Prabhupada

his Timeline

Months in his Life

Training his Disciples

Questions

Bhagavad-gita

Devotees of God

Devotional Service to God

Discipleship

Guru / Acharya

Essential Subjects

Nectar Drops

What's in Vanipedia now

Glorious Personalities

Yoga

Collaborate with us to invoke and fully manifest Srila Prabhupada's Vani-presence.
---
BG 11.23 (1972)
From Vanisource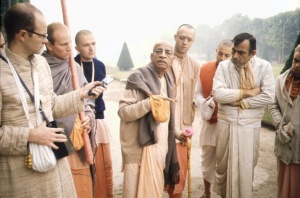 TEXT 23
रूपं महत्ते बहुवक्त्रनेत्रं
महाबाहो बहुबाहूरुपादम् ।
बहूदरं बहुदंष्ट्राकरालं
दृष्ट्वा लोकाः प्रव्यथितास्तथाहम् ॥२३॥
rūpaṁ mahat te bahu-vaktra-netraṁ
mahā-bāho bahu-bāhūru-pādam
bahūdaraṁ bahu-daṁṣṭrā-karālaṁ
dṛṣṭvā lokāḥ pravyathitās tathāham
SYNONYMS
rūpam—form; mahat—very great; te—of You; bahu—many; vaktra—faces; netram—eyes; mahā-bāho—O mighty-armed one; bahu—many; bāhu—arms; ūru—thighs; pādam—legs; bahu-udaram—many bellies; babu-daṁṣṭrā—many teeth; karālam—horrible; dṛṣṭvā—seeing; lokāḥ—all the planets; pravyathitāḥ—perturbed; tathā—similarly; aham—I.
TRANSLATION
O mighty-armed one, all the planets with their demigods are disturbed at seeing Your many faces, eyes, arms, bellies and legs and Your terrible teeth, and as they are disturbed, so am I.