Radharani

Krishna

Caitanya

God

God's Holy Names

Krishna Consciousness Movement

Who Is Srila Prabhupada

his Timeline

Months in his Life

Training his Disciples

Questions

Bhagavad-gita

Devotees of God

Devotional Service to God

Discipleship

Guru / Acharya

Essential Subjects

Nectar Drops

What's in Vanipedia now

Glorious Personalities

Yoga

Collaborate with us to invoke and fully manifest Srila Prabhupada's Vani-presence.
---
BG 11.22 (1972)
From Vanisource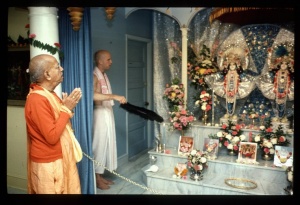 TEXT 22
रुद्रादित्या वसवो ये च साध्या
विश्वेऽश्विनौ मरुतश्चोष्मपाश्च ।
गन्धर्वयक्षासुरसिद्धसङ्घा
वीक्षन्ते त्वां विस्मिताश्चैव सर्वे ॥२२॥
rudrādityā vasavo ye ca sādhyā
viśve 'śvinau marutaś coṣmapāś ca
gandharva-yakṣāsura-siddha-saṅghā
vīkṣante tvāṁ vismitāś caiva sarve
SYNONYMS
rudra—manifestations of Lord Śiva; ādityāḥ—the Ādityas; vasavaḥ—the Vasus; ye—all those; ca—and; sādhyāḥ—the Sādhyas; viśve—the Viśvadevas; aśvinau—the Aśvinīkumāras; marutaḥ—the Maruts; ca—and; uṣmapāḥ—the forefathers; ca—and; gandharva—the Gandharvas; yakṣa—the Yakṣas; asura-siddha—the demons and the perfected demigods; saṅghāḥ—assemblies; vīkṣante—are seeing; tvām—You; vismitāḥ—in wonder; ca—also; eva—certainly; sarve—all.
TRANSLATION
The different manifestations of Lord Śiva, the Ādityas, the Vasus, the Sādhyas, the Viśvadevas, the two Aśvins, the Māruts, the forefathers and the Gandharvas, the Yakṣas, Asuras, and all perfected demigods are beholding You in wonder.