710328 - Letter to Madhusudana written from Bombay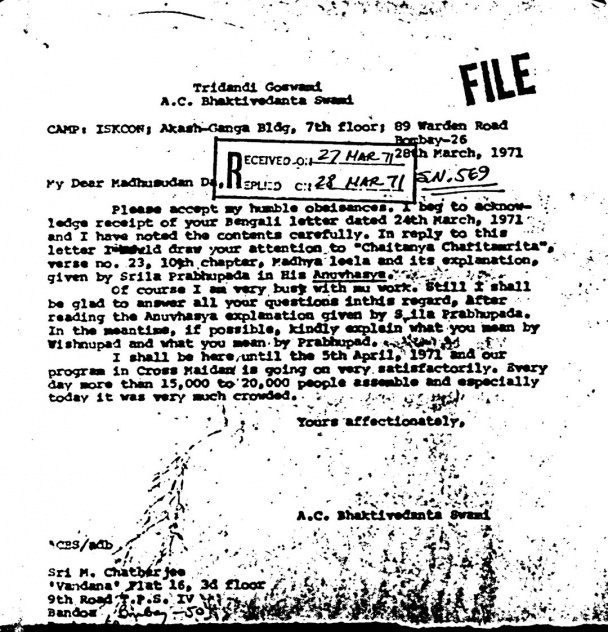 Tridandi Goswami
A.C.Bhaktivedanta Swami

CAMP:ISKCON, Akash-Ganga Bldg., 7th Floor, 89 Warden Road
Bombay-26
28th March, 1971
SN. 569 [handwritten]
My Dear Madhusudan Das,
Please accept my humble obeisances. I beg to acknowledge receipt of your Bengali letter dated 24th March, 1971 and I have noted the contents carefully. In reply to this letter I would draw your attention to "Chaitanya Charitamrta," verse no. 23, 10th chapter, Madhya leela and its explanation, given by Srila Prabhupada in His Anuvhasya.
Of course I am very busy with my work. Still I shall be glad to answer all your questions in this regard, After reading the Anuvhasya explanation given by Srila Prabhupada. In the meantime, if possible, kindly explain what you mean by Vishnupad and what you mean by Prabhupad.
I shall be here until the 5th April, 1971 and our program in Cross Maidan is going on very satisfactorily. Every day more than 15,000 to 20,000 people assemble and especially today it was very much crowded.
Yours affectionately,


A.C. Bhaktivedanta Swami

ACBS/adb
Sri M. Chatherjee
'Vandana' Flat 16, 3rd floor
9th Road T.P.S. IV
Bandoa, Bombay-50 [handwritten]