1966 New York Journal - The Upper West Side
From Vanisource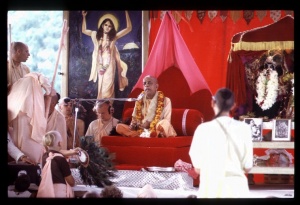 January 19 through March 31, 1966
The Upper West Side Summary
100 West 72nd Street Room #307, New York, N.Y. 10023
On January 19, when the first entry occurs, Srila Prabhupada is living in the rear rooms of the yoga studio of Dr. Ramamurti Mishra at Suite 501, 100 West Seventy-second Street, on the Upper West Side of Manhattan. Daily Srila Prabhupada walks several blocks to Dr. Mishra's residential apartment at 33 Riverside Drive to bathe and to cook his meals. In the evenings Srila Prabhupada holds classes for interested persons. Some of Dr. Mishra's students attend these classes. During the day Srila Prabhupada is active in selling his books to book stores. He writes to newspapers and radio stations and organizes occasional speaking engagements. He also writes to large charitable foundations like the Alfred P. Sloan Foundation and the Rockefeller Foundation. On the weekends Srila Prabhupada joins Dr. Mishra on yoga retreats at the Ananda Ashram in Monroe, in upstate New York. Here he conducts kirtanas, which the students appreciate.
Srila Prabhupada is looking for a building to purchase as a Radha-Krsna temple. He hopes this will be financed by Sir Padampat Singhania, a wealthy industrialist in Kanpur, India. Srila Prabhupada contacts the Salvation Army to arrange the transfer of funds from India to America. He also writes to his Godbrothers in India to petition the President of India to sanction the foreign exchange. This endeavor occupies Srila Prabhupada for almost five months.
On February 2 Srila Prabhupada purchases a tape recorder to record classes, kirtanas and bhajanas. He pays the equivalent of one month's rent. On February 20 he completes tape recording the Gitopanisad introduction. Years later this becomes the introduction to the Bhagavad-gita As It Is. Srila Prabhupada tries to enlist the aid of Charlotte Leblanc, who has been attending his classes, to edit his manuscript of the Bhagavad-gita. She becomes reluctant when she learns that Srila Prabhupada's philosophy is opposed to monism.
Srila Prabhupada wants his own place, and on February 9 he signs a lease with the manager of the same building to rent an office room.
On February 23 Srila Prabhupada forms The International Institution for God Consciousness and enrolls seven of the people who are attending his classes. One of these is Harvey Cohen, who introduces Srila Prabhupada to Paul Murray, another young man seeking spiritual knowledge.
In March Srila Prabhupada's room is burgled. His tape recorder, typewriter and book bag are stolen. Within days Srila Prabhupada moves to a loft at 94 Bowery, which he shares with Paul Murray. While he is obligated to give a month's notice at his present location, he changes the venue of his classes on April 1 and travels downtown for each meeting.
---
---
Wednesday 19 January - NY
By the Grace of Sri Sri Guru and Gauranga an encouraging letter is received today from Sir Padampat Singhania <ref>Sir Padampat Singhania was a wealthy industrialist living in Kanpur, India.</ref> of Kanpur India. Temple hopeful.

To see the Publication Sale office U.S. Government office of Education 110 Livingston St. (Burohouse Station) Phone No 596-3106

Seen Mr. L. Mehotra <ref>Mr. L Mehotra was an official at the Indian consulate.</ref> at the New India House. Submitted Chandra Sekhar's case for transfer of his office in New York. He said to consider.

Two sets of books taken back from Paragon Book Gallery <ref>Paragon Book Gallery specialized in books on Eastern religion and culture. Śrīla Prabhupāda stored his books there.</ref>. This makes altogether seven sets taken back. Balance with them 18 sets.
Thursday 20 January - NY
Bon Maharaj's letter replied <ref>Bon Mahārāja was one of Śrīla Prabhupāda's godbrothers and the Rector of the Institute of Oriental Philosophy in Vṛndāvana, India.</ref> and he is requested to see Dr. Radhakrishnan <ref>Dr. Radhakrishnan was the president of India and Śrīla Prabhupāda had met him previously.</ref> for sanction of Exchange. Now everything depends on the Supreme Will of the Lord Sri Krishna.


Sir Padampat Singhania replied Chandra Sekhar replied and asked to send one set Bhagwatam to Sir Padampat Singhania
Friday 21 January - NY
| | | |
| --- | --- | --- |
| Postage |  -  | 00.25 |
| Sugar etc. |  -  |     .90 |
| | |    1.15 |

Letter received from C.C. Doctor of Bombay. He has gone back from his promise. This is not good. Better late than never.

Mr. Boghart <ref>Mr. Larry Bogart was interested in helping Śrīla Prabhupāda and had given references for the sale of books.</ref> asked me to see him on Monday morning in his office 866 United Nations Plaza.
Saturday 22 January - NY
| | | |
| --- | --- | --- |
| Salt |  -  |     .15 |
| Banana  |  -  |     .22 |
| | |     .37 |

Letter sent to Surya Kumar Joshi of A.I.C.C. <ref>A.I.C.C. - All India Congress Committee, the governing council of India's ruling</ref> office for help in getting sanction.

So also letter sent to Beney Bhushan Dutta if he can help in this matter.

The cleaner sent by Neena came to Doctors apartment and cleaned it. I gave him some cold drink and he was glad.
Sunday 23 January - NY
To-day due to snow fall the whole day, I did not go either to Dr. Mishra's apartment nor outside the studio. My managed my things here in the studio.

No expenditure today.
Monday 24 January
To see Mr. Larry Boghart morning 9 am.

Saw Mr. Larry Boghart in his office. He advised me to write to Mr. Felix Morrow <ref>Felix Morrow - Proprietor of University Books</ref> for an appointment to see. So I am writing him & sending some literature of Srimad Bhagwatam.

Bus fare - .30
Tuesday 25 January - NY
Received letter from Mrs. Sally Agarwal <ref>Śrīla Prabhupāda had been sponsored by Gopal Agarwal and had stayed with the family in Butler PA before coming to New York</ref> 603 N. Walnut St. Dover Ohio intimating that she is taking my book to her new residence. It appears that she has had not received my letter of 18/1/66.

Decided to purchase one Tape Recorder Martel. From the advertisement Times of New York.

No Expenditure today.

one set of books taken by Mrs. Milapsky she promises to pay on Thursday 27/1/66.

Lectures delivered in the studio on the test of spiritual realisation. It means no more any artificial demand for the body and mind. People appreciated.

No expenditure today.
Wednesday 26 January - NY
Meeting at the Church at 4 West 76th St at 7 pm.

The following letters dispatched.

(1) Sally Agarwal 603, N. Walnut St

Dover, Ohio.

Re: Books

(2) Miss. H Sattley, Bureau of Libraries

110, Livingston St. Brooklyn N.Y.

(3) Dr. Seymour Fersh, Asia Society

112, East 64th St. New York City.

Went to see the Tape-recorder. Found no good.

Expenditure -

Butter
 - 
    .44    
one set book sold
at the Universalist
Church of Divine
Paternity
Busfare 
 - 
    .30    
 
 
 
    .74    
 
 
 
Central Park West at 76th St. NY
Thursday 27 January
Mr. Hill gave me the address of Sachin Mazumdar.

Enquired from Camera House about T.R. Mr. Eric's friend Mr. Dick.

One set books price of $16.00 paid by Mrs. Milapsky.

Today Mr. Cohen <ref>Harvey Cohen was very interested in spiritual matters and recommended Śrīla Prabhupāda as a teacher to his friends. He was later initiated as Haridāsa and was helpful in organizing Śrīla Prabhupāda's visit to San Francisco in 1967.</ref> met. He gave his address and invited me to see his apartment in the Down Town. No Expenditure.
Friday 28 January - NY
| | | |
| --- | --- | --- |
| Purchased vegetables |  -  |     .42 |
| Busfare |  -  |     .30 |
| Expenditure | |     .72 |

Saw Mr. Cohen at his place. He is to come here tomorrow at 4 pm.
Saturday 29 January
Mr. Hill will call me at 10-10/30 am.

Geeta meeting at Studio at 4 pm.

Mr. Hill informed that Sachin Mazumdar can be contacted on phone and thus meet him. Mr. Cohen came at 4 pm with friends and heard me for one and half hour up 5/30 pm.

He has taken away one set of Books on approval.

Two sets of book received back from Paragon book gallery making altogether 3 new sets taken back from them.

| | | |
| --- | --- | --- |
| Expenditure: Banana |  -  |     .26 |
| Busfare |  -  |     .30 |
| | |     .56 |

To Sri Sri Adwaita Prabhu's appearance observed by fasting like Ekadasi
Sunday 30 January
Too much snow falling today and the wind blowing very severely. So I could not go to Dr. Mishra's apartment for meals. Some how or other I managed my bath and meals in the studio.

Purchased milk + butter .51.
Monday 31 January - NY
To-day I met two Foundations Carnegie Corporation of New York & Russel Sage Foundation. To contact again tomorrow by phone.

Expenditure. Busfare .30
Tuesday 1 February - NY
To-day phoned Mr. Felix Morrow of the University books. He said his Hindu representative is looking into the matter and as soon as he finishes his task he will let me know.

Expenditure - Busfare .30

It is arranged today by phone that the universalist church will allow house for holding meeting on every Wednesday evening from 7/30 to 9 pm.

Mr. Cohen informed about this.
Wednesday 2 February
Today I have delivered one set of books to Mr. Lindsay R. Moss one assistant of the Alfred P. Sloan Foundation for presenting the same to President Mr. Everett Case of the Foundation. I have also posted one letter addressed to the President. One letter is sent to Mr. Henry J. Levy

Buyer of m/s Brentano's bookseller.

Expenditure Busfare
 - 
      .30
Potato, Banana,
and apple
 - 
      .73
one Estey '20' Tape Recorder
from m/s Peerless Cash
memo No M78490 Dt 2/2/66
for $54.02
Guaranteed for 90 days.
   54.02
   55.05

In the evening there is lecture at the Universalist Church West 76th St & Central Park West.
Thursday 3 February - NY
Today there was a very nice demonstration of tape-record Samkirtan by me.

It is all Grace of Sri Chaitanya Mahaprabhu. Srila Haridas Thakur said that the transcendental sound of Hari Nama would even purify the heart of birds and beasts. Today this statement of Thakur Haridas is corroborated. These American can not understand even a word's meaning of the Sankirtan and yet they were so much attracted? It is all Sri Chaitanya Mahaprabhu's power; there is no credit for me.

one set book sold - 13.00
no expenditure.
Friday 4 February
Engagement with Mr. Henry J. Levy Buyer of messrs Brentano's at 9/30 am. 566 Fifth Avenue, New York

Mr. Levy was duly seen but he has no scope for selling my books

one set book delivered to Oriental against price deposited yesterday.

one book taken back from Jullian Ben

Two sets of book taken back from m/s Paragon book Gallary

Received one letter from Teertha Maharaj <ref>Bhaktivilāsa Tīrtha Mahārāja, Head of the Caitanya Math, the main branch of the Gaudiya Math.</ref>. On his asking for the letter of the donor, he has been given the letter from Sir Padampat Singhania and requested him to take sanction for Exchange not less than Rs. 10,00000/-

Expenditure   —       .30

one Indian young businessman met. His name is Rabindra Srivastava c/o C.G. Trading Corporation dealing in carpets. His address registered.
Saturday 5 February - NY
one letter received from the President Case of Alfred P. Sloan Foundation. Declined to help the cause. I shall reply the letter.

| | | |
| --- | --- | --- |
| vegetables |  -  |     .31 |
| Rubbing alcohol |  -  |     .43 |
| | |     .74 |
Sunday 6 February
President Case replied to his letter. Cohen with Salak and other two ladies attended today's meeting. I took meals at Dr. Mishra's apartment

There was no expenditure.
Monday 7 February - NY
Today received one letter from Chandra Sekhar with enclosure of Pf. Sri Krishna's letter. Pf. Sri Krishna has supplied some addresses of which Lampert Export Co. is noted.

Expenditure. Butter & Fruits .71

One letter sent to Sally to send 25 sets to Paragon immediately.
Tuesday 8 February
Mr. Larry Bogart called today by me on phone. He advised to remind Mr. Morrow by letter. So I have sent him one letter today asking for immediate interview.

Purchased postage   —       2.10

Today Dr. Mishra returned from Florida. Cohen and Salak did not come today as promised.
Wednesday 9 February
Today morning I met Manager of S.N. Petchins 33 Riverside Drive New York 23 N.Y. for occupying apartment No 307 on rent. Agreed and in the evening at 4/30 $140.00 was paid as follows:

| | | |
| --- | --- | --- |
| Rent to Commence 2/15/66 |  -  |     $70.00 |
| Security |  -  |     $70.00 |
| Total | |    $140.00 |

Tenant A.C. Bhaktivedanta Swami formally one year's lease but can be vacated by 30 days notice by Regd. Post. Receipt token. Taken forty $40.00 dollars from Mr. Cohen out of which book price 16.80 due to him $23.20.

Expenditure Bus fare .30 and rent above

Total $140.30

Denatured Alcohol .43

$140.73
Thursday 10 February
His Divine Grace Srila Prabhupada's advent ceremony. Today I am changing my room from 501 to 307 (rented).

The following letters sent.

(1) Post Master

Zone No 10023 U.S. Mails

change of room

(2) New York Times, (New Editor)

229, West 43 Street. N.Y.

All requested to publish news of Hari Kirtan

(3) New York Herald Tribune

230 West 41st St. N.Y.

(4) New York News Daily & Sunday

220 East 42nd St. N.Y.

Delivered personally at the respective offices.

I have taken possession of the room No. 307 from today although the rent will be charged from 15th to 15th.

Expenditure Postage .28
Friday 11 February
The peon has noted down about my change of room.

Following letters were posted
Newspapers:

(1) The Morning Telegram

525 West 52 Street

New York City

(2) The Times Mirror Co.

280 Park Avenue

New York City

Radio Stations.

(1) Radio Station Master

N.B.C.

30 Rockefeller Plaza, New York City.

(2) Radio Station Master WOR

1440 Broadway

New York City

(3) Radio Station Master W.N.Y.C.

Municipal Buildings N.Y.C.

Expenditure Butter .20

There was no response of the visitors invited to come and join Hari Kirtan this evening at 7/30 pm. But I alone executed the Kirtan ceremony with my T.R. till 10 pm.
Saturday 12 February
Mrs. Charlotte Leblanc was to come here in the morning - I waited for her till 10/50 o'clock but she did not turn up.

Expenditure Bus fare - .60

Received the following letters

(1) From Rockefeller Foundation

(2) Mrs. Sally Agarwal Ohio.

Mrs. Charlotte Leblanc was contacted by phone. She will come on Monday in the evening after seven.
Sunday 13 February
Mr. Cohen promised to come at my place by 3 o'clock after noon but he did not turn up. Today the whole day was raining. Talked with Mr Mukherji of 9 La Sal by telephone Also with Mrs J. K. Banerjee correspondent of Hindusthan Standard. He has given his phone No as follows:-
  PL4 -1234 Extention 2180.
          No Expenditure
Monday 14 February
To-day I tried to contact Cohen by phone but he was not available. I went to see him at his place at about 4/30 but he was not available. Hopeless. I have advised the president of Paragon Book Gallery to receive 25 sets sent by Sally Agarwal. He has noted the message.

| | |
| --- | --- |
| Expenditure - Vegetables and Butter | .95 |
| Bus fare - | .30 |
| | 1.25 |
Tuesday 15 February
To-day Cohen and Salak came. They have some difficulty.

Mrs. Leblanc also attended class from 6/7-30 pm.

Tried to contact Mr. Banerjee but not successful.

No letter received and no expenditure.

Proposal for Geeta editing made to Mrs. Leblanc. Almost agreed.
Wednesday 16 February
To-day I have sent reminders to Srila Teertha Maharaj and Sripad Bon Maharaj.

Saw Mr. Banerji & Bogart. Letter received from Mr. Morrow. Not agreeable.

Expenditure   —   Bus fare       .30

Ekadasi surpassed to observe tomorrow (Dwadashi).
Thursday 17 February
To-day Ekadasi observed.

Mr. Bogart met with and he is handed over a letter. He promised action.

Expenditure Bus fare .30

Mr. Paul <ref>Paul Murray</ref>(introduction Cohen) took one set of Books. Price to be Realised.

One letter received from United States Navigation regarding M/V Jaladuta starting 24th
Friday 18 February
Shiping Co. replied.

Proposed starting by Jaladuta.

One letter forwarded for Captain Pandia <ref>Captain Pandia, the captain of the Jaladuta steamship.</ref>.

Received letter from Suryakumar asking me to write to the Prime Minister and the copy of the letter sent to him. So I sent one letter to the Prime Minister & the copy to Suryakumar for necessary action. Copy of Sir Padampat's letter sent.

Two other letters also despatched as follows: The Ambassador of Nepal for an interview and the Ambassador of India requesting him to arrange for my meeting with the President U.S.A. Two sets of books brought from Paragon. The man declines to deliver books like this. Sally has not sent the books as yet. Expenditure Bus fare .15

Dr. Mishra asked me to come to the Ashram. But I didn't go. Simply waste of time.

One Polish lady paid me the other day $1.00.
Saturday 19 February
Mr. Banerji invited to come here tomorrow evening

Expenditure - Butter .40

In the evening Mr. Paul and Mrs. Leblanc came. Attended meeting from 6/8.30 pm.
Sunday 20 February
Monday 21 February
Todays meeting was attended by greater number of members than other days. They liked the Introduction record very much. Some of them brought fruits for me and Mrs. Leblanc paid $3.00.

No letter received no expenditure made.

A great inconvenience was caused today by oozing out of dirty water from the sink. It spoiled all the mattresses on the floor. The Supt was informed but he could not help. He said he would report the matter in the office.
Tuesday 22 February
The report of the sink disturbance is informed in writing to the Landlord's office. Today being holiday the office of the Landlord was closed. Letter not delivered.

I went to see the house at Brooklyn with Babakhanian. The house is not suitable for my purpose.

In the evening there was meeting up to 9/30 pm.
Wednesday 23 February
Thursday 24 February
Letter from Pandya Captain received.

Income $1.00 No expenditure.

One young man came from Down Town Mr. Robert. The Samkirtan record was played. He liked it.

The Plumber did not turn up.
Friday 25 February
The following letters received
1. From Teertha Maharaj
2. From the Nepal Permanent Commission
3. From Brindaban.
4. From United States Navigation Co.
The following letters despatched.
1. To Mr. Prem Gandhi
2. To Sally Agarwal.
3. Brindaban's letter replied.
Went to Ananda Ashram Monroe
The Plumber did not turn up.
No expenses.
|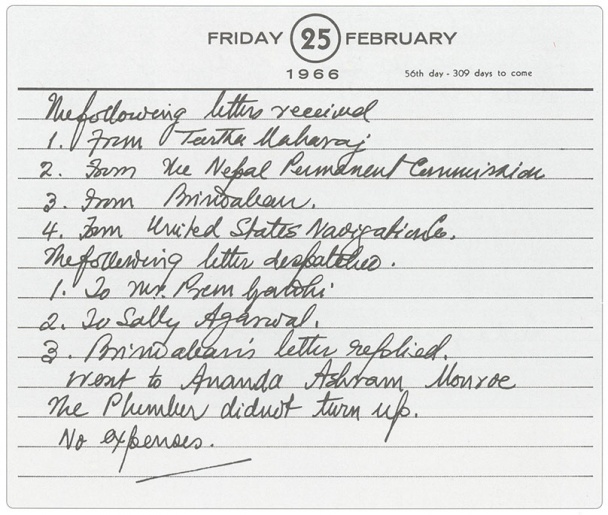 |}
Saturday 26 February
The whole day and night remained at Ananda Ashram.
Kirtan demonstration was given Dr. Mishra appreciated it very much. Next morning also invited.

No expense.
Sunday 27 February
The whole day remained at Ananda Ashram Monroe. Kirtan demonstration in the morning. Record was taken by Mr. Bill. But it was not successful. In the evening returned. No letter received. Kirtan performed. Neena Gordon attended. Plumber did not come. One torn suitcase brought by Neena. Clothes put into it. Nice.

No income. No expenditure.
Monday 28 February
Engagement with the First Secretary of Permanent Commission of Nepal State to the United Nations at 2 pm.

Saw the First Secretary Mr. Kedar P. Kairala and it is hopeful. He will let me know very soon.

Expenditure     Bus fare        .30

Income -        $1.00


one letter received from Bon Maharaj

one letter       "       "     Atmasingh

Atmasingh's letter replied.
Tuesday 1 March
Saw the India office for extention passport and saw Mr. L. L. Mehotra. Saw also Mr. Bogart. Still hopeful. Received letter from Secretary of Indian Prime Minister. Disappointing.

Received letter from Universal book not encouraging.

Butter & Bus fare etc.
Expenditure   —       .50
Income   —             .15
Wednesday 2 March
To-day in the morning I went to see Mr. L. L. Mehotra in connection with renewal of Passport after June 1966. The application with letter of forwarding submitted. Extention up to 30th June 1966 already allowed. It is referred to New Delhi and by confirmation from there the Passport will be renewed at least for one year more.

Expenditure       Bus fare             .30

Dr. Mishra gave me a pot for drinking milk.

Chandra Sekhar sent a letter for seeing the Passport office in New Delhi to expedite the reply.


Income Contribution   —         $3.00

Robert brought some whole wheat Flour. Cohen brought the Samkirtan picture. There were some defects. So taken back for rectification.

Cohen brought one cotton jersey for me. Thanks.
Thursday 3 March
Today Ekadasi observed. No letter received. In the evening only two visitors came. There were some topics on the meditation yoga.

Expenditure.   Bootpolish & lace       .46.
Income contribution       $1.00.

Dr. Mishra wanted my kirtan in his meetings. I am considering the proposal. The situation is adverse. Let me first of all see how they receive it in the Ananda.

Jones presented me a copper cup. Very nice. Thanks.
Friday 4 March
Today one letter sent to Boyd Compton of the Rockefeller Foundation asking him Exchange Cooperation. Meals taken at Dr. Mishra's.

Income $9.00. Contribution and books.

No expenditure.
Saturday 5 March
Today I have sent one letter to the Secretary Salvation Army, 14th St. West N.Y. for exchange.

At 2 o'clock went to Ananda Ashram. Kirtan was performed in the evening. Very much appreciated.

Night passed at Ananda.

Yolanda <ref>Yolanda - A student of Dr. Mishra</ref>gave me a calendar.

No expenditure.
Sunday 6 March
Sunrise at 6/30. Sunset at 5/53 Moon rise at 5/28 Full Moon 8/46 pm.

Today whole day passed at Monroe Ananda Ashram. In the morning there was kirtan and it was very much appreciated.

Returned from Monroe at 6 pm.
Talked with Mr. Majid of Tehran (Iran). Interested in spiritual rejuvenation of the world. Took lesson for more than one and a half hour.

According to Mayapur Panjika <ref>Mayapur Panjika - The Vaiṣṇava calendar published annually by the Gaudiya Math.</ref>today is Adhivas day of Gour Purnima. Devotees at Vrindaban and Nabadwipa are enjoying the celebration. I am here alone without any devotee companion. But I have come here to serve the Lord and not for personal happiness. I am prepared to live in hell even if I am able to serve the Lord. Sri Chaitanya Mahaprabhu wanted that His mission should be propagated all over the world and that is my objective. I do not mind the inconvenience personally felt.       ACB
Monday 7 March
Sunrise 6/28 am. Sunset 5/54 pm. Moonrise 6/51
Pratipada in the evening. Lord Chaitanya's Birthday.

Fasting observed till 5/30 pm. Broke fast by eating fruits and milk.

From Sunr
Seven ladies and gentlemen attended to-day's meeting. There was topics on Gita and Kirtan.
The collection made out of Contribution &

books   —             $28.00
Expenditure   —      $1.15
Tuesday 8 March
Sunrise 6/26 am. Sunset 5/56 pm. Moonrise 8/12 pm
Dwitiya. 480th year of Gourabda begins today.

One letter received from Atmasingh Jersasing of 345, Kalvadevi Road, Bombay - 2. He is not willing to hand over sevapuja to Gosain. Nor his is willing to build a temple in New York.

Saving account with First National City Bank opened. Deposited $50.00.

Larry Bogart contacted. He said tomorrow at 11 to call.

Robert brought some fruits and dal for me.
Wednesday 9 March - NY
Sunrise 6/25 Sunset 5/57 Moonrise 9/29
Tritiya

To-day I went to see the Nepalese Ambassador at 300 Envoy Tower, E. 46th St. He was not present so I left with his secretary one note.

Then I saw Mr. Larry Bogart. He has given back the books for examination of Mr. Laughlin of the New Direction Publishers at 333, Sixth Avenue. I shall see him tomorrow morning.

Then I went to Paragon. They have received 35 sets. It is accounted that up-to-date (2 sets today) I have taken back 15 sets. So out of the 35 sets these 16 sets may be made up. Thus 20 (twenty sets remain with them)

I lost my cap on the bus.

Expenditure Bus fare         .60

Meeting held from 7 to 9/30 pm.
8 eight members attended the lecture on Geeta & Kirtan
Income by contribution & books — $13.00
Thursday 10 March
Sunrise 6/23. Sunset 5/59. Moonrise 10/46
Chaturthi

one letter received from Brindaban India

one letter received from Library Bureau Local.

one set of books left with New Direction Book 333 Sixth Avenue and the matter informed to Mr. Larry Bogart.

Kirtan performed at studio. There was some inconvenience Mrs Leblanc did not come today.

Yolanda, two other ladies and another gentleman came.

Expenditure Bus fare       .30
no income
Friday 11 March
Sunrise 6/21. Sunset 6/00. Moonrise
Panchami

Dr. asked me to take some food when I go to Monroe tomorrow.

I went to see the Paragon Book Gallery. There was some mistake. Later on the clerk showed me one set on the lower shelf. This makes the whole thing correct. Nine set up one set down total 10 sets. Add 35 new sets. Total 45 sets. Transfer to old stock 25 sets. Balance 20 sets. Taken today 4 sets. Balance 16 sets new stock. Posted letter to them all in detail. This 16 sets new I shall take at a time when I next need them.

| | |
| --- | --- |
| Expenditure — Bus fare | .30 |
| Post 5 cent book — | 1.00 |
|   | 1.30 |
| Income Contribution — | 2.00 |

one letter sent to Teertha Maharaj in reply to his letter of 22/2/66

one letter sent to Mrs. Sally Agarwal in reply to her letter Dt 6/3/66
Saturday 12 March
Sunrise 6/19 am. Sunset 6/01 pm. Moonrise 0/01 am.
Sasthi

I was to go to Monroe but Yolanda did not go, so I could not go there. Food made for Dr. Mishra was partly distributed to Cohen and Yolanda. Two paratha* left for him.

Cohen is preparing to go to California. One-half tape-record prepared for him. He bought a pad for selling. He assured the maintenance of rent of my room.

no income, no expenditure.
Sunday 13 March
Sunrise 6/17 am. Sunset 6/03 pm. Moonrise 1/12 am.
Saptami

The young lady who was to come and see me today did not turn up. In the evening two ladies and Mr. Susman came. There was some discussions, one of the ladies brought bread for me. No income and no expenditure.
Monday 14 March
Sunrise 6/16 am. Sunset 6/06 pm. Moonrise 2/17 am.
Astami

One letter received from Chandra Sekhar. It will take some time to renew the Passport. I have today renewed the Visa up to 30th June 1966. Paid Doctor 10.00 as fee. I have lost today the good fountain pen given to me by Gopal. It is worth $13.50. I am very sorry for this but I should not lament for this because it was given by some body and it is taken by somebody else. It was in my possession only for a few months. So I have purchased one today of the same make but inferior quality. It is working well.

| | |
| --- | --- |
| Expenditure — Pen Sheaffar | 1.00 |
| Subway to Chamber Station & down | .30 |
| Visa fees | 10.00 |
|   | 11.30 |

Income Contribution       $17.00
Tuesday 15 March
Sunrise 6/14 am. Sunset 6/06 pm. Moonrise 3/13 am.
Navami

Today no letter received & Joans requested to pick up the books from Paragon's. She agreed to do it tomorrow.

Today no letter received. Deposited in the Bank $25. no other expenditure.

In the evening five ladies and gentlemen visited. There was some talks.

Mrs. Leblanc came at the end after Dr. Mishra's meeting. Now she is losing interest since she has learnt it that Bhagwat Geeta does not support monism.

No income to-day.
Wednesday 16 March
Sunrise 6/12 am. Sunset 6/07 pm. Moonrise 4/00 am.
Dashami

Joan was kind enough to get my books sixteen sets from m/s Paragon Book Gallery. The books are brought and kept in stock.

No letter received.

In the evening there was meeting. The attendance was three only.

No expenditure.

Income $3.00 only by contribution.
Thursday 17 March
Ekadasi Sunrise 6/10 am. Sunset 6/08 pm. Moonrise 4/38 am.

Today rent for the month of 15/3/66 to 14/4/66 one month paid in advance to S. N. Pelches (?) Landlord by money drawing from the Bank.

Received letter from Salvation Army Finance Secretary. At once went to see him. The result is favourable by the Grace of the Lord. The finance secretary has agreed to accept at 4.80 a dollar exchange<ref>Refers to the exchange rate of 4.80 rupees to a dollar.</ref>. He is writing to London office for confirmation.

| | |
| --- | --- |
| Expenditure — Bus fare — | .30 |
| Envelopes half a dozen — | .32 |
| | 62 |

In the evening two ladies and one gentleman Mr. Tone came to see me. There was some discussions.
Friday 18 March
Dwadashi Sunrise 6/08 am. Sunset 6/09 pm. Moonrise 5/09 am.

Today one letter received from Chandra Sekhar. He encourages to stay in America at least for three years. God bless him. There is some good sales of Srimad Bhagwatam he reports.

Two letter posted as follows:-

one letter to Sir Padampat Singhania

one letter to Srimati Sumati Morarjee

Dr. Mishra made bad remark on Tilak and kanthi. He commits offences. I do not know when he will come to his real sense.

No expenditure -

Income by contribution     $4.00

Tonight five ladies and gentlemen attended the meeting from 7 pm. 9/15 pm. and 15 minutes talks. Kirtan and lectures on the Bhagwat Geeta performed.
Saturday 19 March
Trayodashi Sunrise 6/06 am. Sunset 6/11 pm. Moonrise 5/33 am.

Today I was to go to Ashram but Yolanda did not go. So I also could not go. I prepared on tape record of Chintamani.

Income   —     1.00
no expenditure
Saturday 20 March
Chaturdashi & Amabasyha

Sunrise 6/04 am. Sunset 6/12 pm. Moonrise Sets 5/56 am.

Some four gentlemen and ladies came to see me. We talked for some time. There have given their addresses. No income and no expenditure.
Monday 21 March
Sunrise 6/02 am. Sunset 6/13 pm. Moonsets 5/44
Pratipada

No letter received today.

one invitation through Dr. Mishra received for attending lectures of Indira Gandhi on 1st April. If some body takes me then I shall go. I distributed Prasadam to all at Dr. Mishra's Apartment.

In the evening there was meeting.

Five ladies and gentlemen attended. Geeta explained about individuality of living entities.

Income     $2.00
No expenditure
Tuesday 22 March
Sunrise 6/00 am. Sunset 6/14 pm. Moonset 6/48
Dwitiya

Two letters received as follows:

one from the Mayor's office New York City.

one from the United States Navigation regarding Jaladuta.

one letter to the United States Navigation replied.

In the evening two gentlemen and lady came. Discussed for some time.

No income and no expenditure.
Wednesday 23 March
Sunrise 5/58 am. Sunset 6/17 pm. Moonsets 8/59 pm.
Tritiya

One letter of Mayor's office replied.
Informed that I shall wait to see Mr. Lindsay till he is free to talk with me.

One letter sent to the Director Library of Congress, Washington D.C. asking for the Library card no. of my Srimad Bhagwatam.

Joans paid me $5.00 contribution. Thanks.

In the doctor's apartment there were 10 to eleven members and I cooked for them all.

Today's meeting only two gentlemen attended therefore I did not record the speeches.

no expenditure.
Thursday 24 March
Sunrise 5/57 am. Sunset 6/18 pm. Moonsets 10/07 pm.
Chaturthi

No letter received today. It is understood that S. S. Jaladuta is on the New York Port. Mr. Forster could not be contacted on phone. Message left for conveying to Captain Pandiya. He may come today. The temple house is seemed to be occupied. Do not know wheter sold or rent out. I am mortified. Let Lord Sri Krishna's wish may be fulfilled. But it is a great sock to me if it is now gone to others.

Captain Pandiya with Mrs. Pandiya came to see me. They are happy and I was so pleased to see them. They will come tomorrow again. I have instructed him to see Srimati Morarjee in Bombay and talk with her about my letters.

There was meeting today. Three ladies and three gentlemen besides the captain and his wife attended the meeting. Mr. Robert brought some fruits & grains for me.

No income and no expenditure.
Friday 25 March
Sunrise 5/57 am. Sunset 6/18 pm. Moonset 10/07 pm.
Panchami

Today one letter received from Brindaban Chandra De, Calcutta, India.

Meeting in the evening seven ladies and gentlemen attended the meeting. Captain and Mrs. Pandiya also were there. Income $22.00. Everyone brought some fruits and grains. There were two newcomers. Address taken.

No expenditure.
Saturday 26 March
Sunrise 5/53 am. Sunset 6/19 pm. Moonset 11/18 pm.
Sasthi

Today when I came back from Dr. Mishra's apartment at 1 pm. I saw my window on the door broken and entering the door I saw my tape recorder, typewriter, and books-bag stolen. A separate note is written in this connection. At 2 pm. Mrs. Lablen(?) came to to take me to Ashram and I went there. The whole thing was up set.

Purchased one bottle Sour Salt     .30

No income.
Sunday 27 March
Sunrise 5/51 am. Sunset 6/20 pm. Moon Set 11/18 pm.
Saptami

Today whole day I was in the Ashram and I came back in the evening at 6/30 PM. At 9 in the night Dr. Mishra, Mrs. Joans, Mrs. Ella, Miss Yolanda and others all came to see the condition of my room. All of them are of the opinion that the Suptd has a hand in this mischief.

I spent the night at the Studio 501. One Mr. Howard of 71 St. became acquainted with me. He appears to be a good friend.
Monday 28 March
Sunrise 5/49 am. Sunset 6/22 pm. Moon Set 0/29 pm.
Astami

Today I went to see the Landlord with Dr. Mishra and Mrs. Joans. The lady manager is already informed of the incidence and she told me that she has advised the superintendent to repair and fix up bars to secure the room. But he has not done anything till now neither he is at his room. Let me consult my friends who may come in the evening and decide things what to do.

One letter received from Sri Teertha Maharaj. The state of the country is too much perplexing on account of food situation. It is understood that loss of life and property in Bengal is beyond imagination.

Today I deposited in the Bank $35.00

There was meeting in the evening. Five ladies and gentlemen attended. Bhagwat Geeta discussed.

No income
Tuesday 29 March
Sunrise 5/48 am. Sunset 6/23 pm. Moon Set 1/36 am.
Navami.

Today I went to see the loft of Mr. Paul. It is a big hall with kitchenette and shower bath etc. Can be utilised for meeting and Samkirtan purpose very nicely. I think it will be nice arrangement. I do not know if Lord Chaitanya wants me to change my present place just to facilitate my missionary work. I do not mind my loss for the typewriter and tape recorder if I am given the facility of my missionary work.

It is Lord Chaitanya's Grace that Robert today brought me an old typewriter. Workable
And another gentleman also (Mr. Peter Blane 161 West 75th St.) called me on Wednesday at 11:30 am. in his apartment No 3.

Income one set book sold -       16.80 cheque
Wednesday 30 March
Sunrise 5/46 am. Sunset 6/25 pm. Moon Set 2/37 am.
Dashami

Today one letter received from Rockefeller Foundation denying any help for starting the International Institution for God Consciousness. The land lord's office visited. They want clear one month's notice for vacating the room. So it has to be decided tonight in the meeting.

Mr. Peter Blane handed over to me one German machine bold type in very nice condition. There was no cover which has to be taken from him. Mrs. Rita Donbroff is unable to help because the man she knew is dead and gone.

Praying Lord Chaitanya for guidance whether I shall go to Paul's loft in Bowling<ref>Bowling - The Bowery</ref>.

Evening meeting was held and seven ladies and gentlemen attended. No Income today. It is settled that Susman and Paul will come on Friday 1st April to take me to the loft Paul.
Thursday 31 March
Sunrise 5/44 am. Sunset 6/26 pm. Moon Set 2/28 am.
Ekadasi

Thirty days notice served to S.N. Petchers land Lord. Registered letter No 413807 Dt March 31, 1966.

No income. Expenditure Registration .80

only two persons came today to meet me.

---

The landlord repaired the window according to his liking. It is not approved by me. The door is still insecure.
Footnotes
<references />