660204 - Letter to Teertha Maharaj written from New York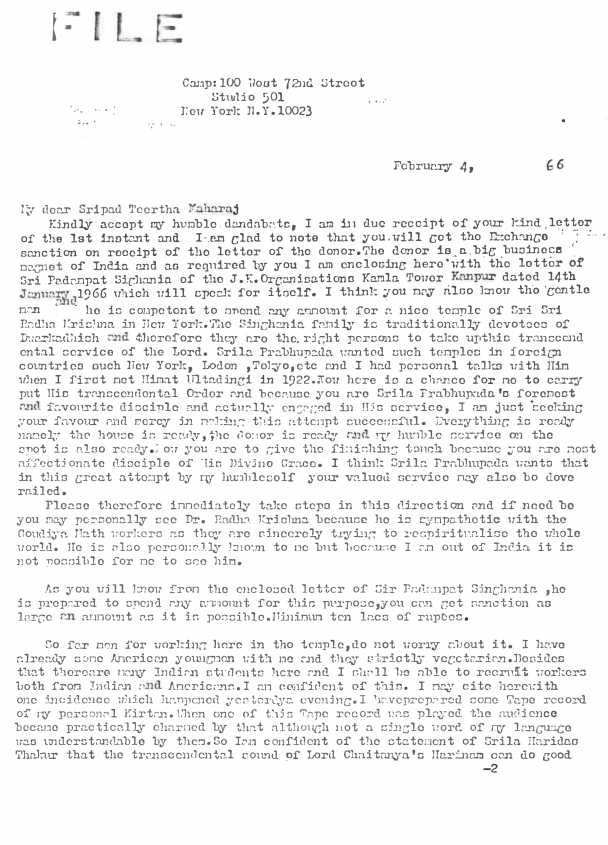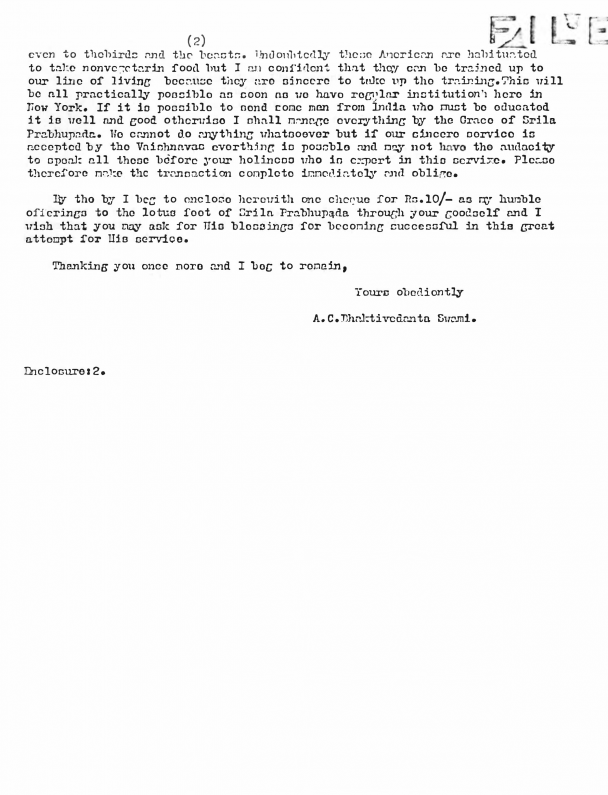 Camp: 100 West 72nd Street
Studio 501
New York N.Y.10023



February 4,                   66

My dear Sripad Teertha Maharaj,
Kindly accept my humble dandabats, I am in due receipt of your kind letter of the 1st instant and I am glad to note that you will get the Exchange sanction on receipt of the letter of the donor. The donor is a big business magnet of India and as required by you I am enclosing here with the letter of Sri Padampat Singhania of the J.K. Organisations, Kamla Tower, Kanpur dated 14th January 1966 which will speak for itself. I think you may also know the gentleman and he is competent to spend any amount for a nice temple of Sri Sri Radha Krishna in New York. The Singhania family is traditionally devotees of Dvarkadhis and therefore they are the right persons to take up this transcendental service of the Lord. Srila Prabhupada wanted such temples in foreign countries such New York, London, Tokyo, etc and I had personal talks with Him when I first met Himat Ultadingi in 1922. Now here is a chance for me to carry out His transcendental Order and because you are Srila Prabhupada's foremost and favourite disciple and actually engaged in His service, I am just seeking your favour and mercy in making this attempt successful. Everything is ready namely the house is ready, the donor is ready and my humble service on the spot is also ready. Now you are to give the finishing touch because you are most affectionate disciple of His Divine Grace. I think Srila Prabhupada wants that in this great attempt by my humble self your valued service may also be dovetailed.
Please therefore immediately take steps in this direction and if need be you may personally see Dr. Radha Krishna because he is sympathetic with the Gaudiya Math workers as they are sincerely trying to respiritualise the whole world. He is also personally known to me but because I am out of India it is not possible for me to see him.
As you will know from the enclosed letter of Sir Padampat Singhania, he is prepared to spend any amount for this purpose, you can get sanction as large an amount as it is possible. Minimum ten lacs of rupees.
So far men for working here in the temple, do not worry about it. I have already some American young men with me and they strictly vegetarian. Besides that there are many Indian students here and I shall be able to recruit workers both from Indian and Americans. I am confident of this. I may cite herewith one incidence which happened yesterday evening. I have prepared some Tape record of my personal Kirtan. When one of this Tape record was played the audience became practically charmed by that although not a single word of my language was understandable by them. So I am confident of the statement of Srila Haridas Thakur that the transcendental sound of Lord Chaitanya's Harinam can do good
even to the birds and the beasts. Undoubtedly these Americans are habituated to take nonvegetarian food but I am confident that they can be trained up to our line of living because they are sincere to take up the training. This will be all practically possible as soon as we have regular institution here in New York. If it is possible to send some men from India who must be educated it is well and good otherwise I shall manage everything by the Grace of Srila Prabhupada. We cannot do anything whatsoever but if our sincere service is accepted by the Vaishnavas everything is possible and may not have the audacity to speak all these before your holiness who is expert in this service. Please therefore make the transaction complete immediately and oblige.
By the by I beg to enclose herewith one cheque for Rs 10/- as my humble offerings to the lotus feet of Srila Prabhupada through your goodself and I wish that you may ask for His blessings for becoming successful in this great attempt for His service.
Thanking you once more and I beg to remain,
Yours obediently
A.C. Bhaktivedanta Swami.


Enclosure:2.