760626 - Letter to Gopala Krishna written from New Vrindaban, USA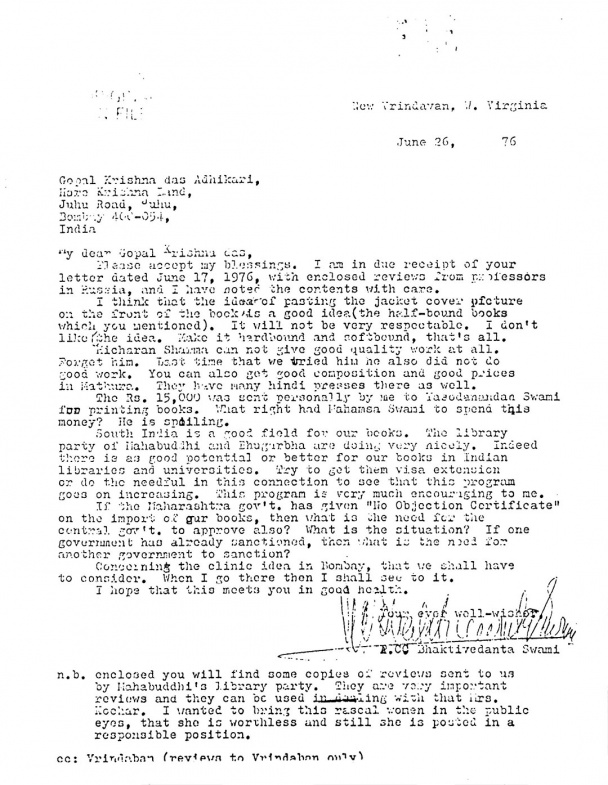 New Vrindaban, W. Virginia
June 26, 76
Gopal Krishna das Adhikari,
Hare Krishna Land,
Juhu Road, Juhu,
Bombay 400-054,
India

My dear Gopal Krishna das,
Please accept my blessings. I am in due receipt of your letter dated June 17, 1976, with enclosed reviews from professors in Russia, and I have noted the contents with care.
I think that the idea of pasting the jacket cover picture on the front of the book is a good idea (the half-bound books which you mentioned). It will not be very respectable. I don't like the idea. Make it hardbound and softbound, that's all.
Hicharan Sharma can not give good quality work at all. Forget him. Last time that we tried him he also did not do good work. You can also get good composition and good prices in Mathura. They have many hindi presses there as well.
The Rs. 15,000 was sent personally by me to Yasodanandana Swami for printing books. What right had Mahamsa Swami to spend this money? He is spoiling.
South India is a good field for our books. The library party of Mahabuddhi and Bhugarbha are doing very nicely. Indeed there is a good potential or better for our books in Indian libraries and universities. Try to get them visa extension or do the needful in this connection to see that this program goes on increasing. This program is very much encouraging to me.
If the Maharashtra gov't. has given "No Objection Certificate" on the import of our books, then what is the need for the central gov't. to approve also? What is the situation? If one government has already sanctioned, then what is the need for another government to sanction?
Concerning the clinic idea in Bombay, that we shall have to consider. When I go there then I shall see to it.
I hope that this meets you in good health.
Your ever well-wisher,



A.C. Bhaktivedanta Swami

n.b. enclosed you will find some copies of reviews sent to us by Mahabuddhi's library party. They are very important reviews and they can be used in dealing with that Mrs. Kochar. I wanted to bring this rascal women in the public eyes, that she is worthless and still she is posted in a responsible position.
cc: Vrindaban (reviews to Vrindaban only)