690215 - Letter to Rayarama written from Los Angeles
From Vanisource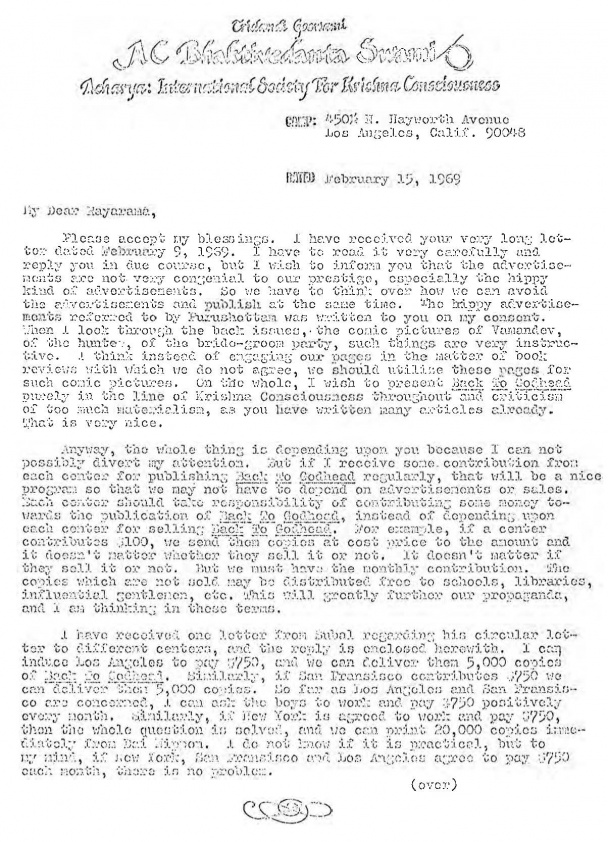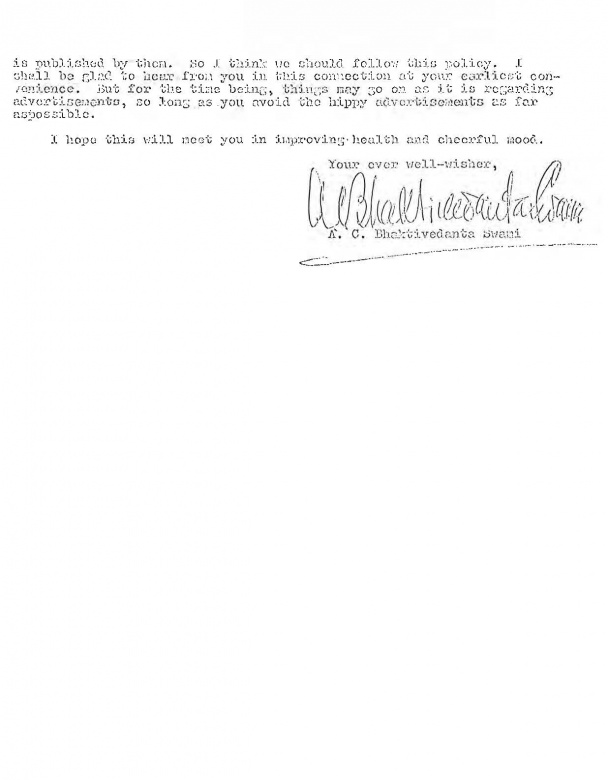 Tridandi Goswami
AC Bhaktivedanta Swami
Acharya: International Society For Krishna Consciousness
CAMP: 4501/2 N. Hayworth Ave.
Los Angeles, Calif. 90048
DATED: February 15, 1969

My Dear Rayarama,
Please accept my blessings. I have received your very long letter dated February 9, 1969. I have to read it very carefully and reply you in due course, but I wish to inform you that the advertisements are not very congenial to our prestige, especially the hippy kind of advertisements. So we have to think over how we can avoid the advertisements and publish at the same time. The hippy advertisements referred to by Purusottam was written to you on my consent. When I look through the back issues, the comic pictures of Vamanadev, of the hunter, of the bride-groom party, such things are very instructive. I think instead of engaging our pages in the matter of book reviews with which we do not agree, we should utilize these pages for such comic pictures. On the whole, I wish to present Back To Godhead purely in the line of Krishna Consciousness throughout and criticism of too much materialism, as you have written many articles already. That is very nice.
Anyway, the whole thing is depending upon you because I can not possibly divert my attention. But if I receive some contribution from each center for publishing Back To Godhead regularly, that will be a nice program so that we may not have to depend on advertisements or sales. Each center should take responsibility of contributing some money towards the publication of Back To Godhead, instead of depending upon each center for selling Back To Godhead. For example, if a center contributes $100, we send them copies at cost price to the amount and it doesn't matter whether they sell it or not. It doesn't matter if they sell it or not. But we must have the monthly contribution. The copies which are not sold may be distributed free to schools, libraries, influential gentlemen, etc. This will greatly further our propaganda, and I am thinking in these terms.
I have received one letter from Subala regarding his circular letter to different centers, and the reply is enclosed herewith. I can induce Los Angeles to pay $750, and we can deliver them 5,000 copies of Back To Godhead. Similarly, if San Francisco contributes $750 we can deliver them 5,000 copies. So far as Los Angeles and San Francisco are concerned, I can ask the boys to work and pay $750 positively every month. Similarly, if New York is agreed to work and pay $750, then the whole question is solved, and we can print 20,000 copies immediately from Dai Nippon. I do not know if it is practical, but to my mind, if New York, San Francisco and Los Angeles agree to pay $750 each month, there is no problem.
I hope this will meet you in good health.