Main Page
From Vanisource
Sloka of the day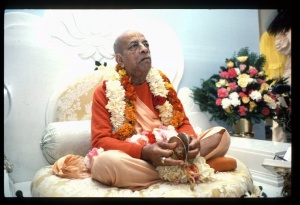 vāsudeve bhagavati
bhakti-yogaḥ prayojitaḥ
janayaty āśu vairāgyaṁ
jñānaṁ ca yad ahaitukam


By rendering devotional service unto the Personality of Godhead, Śrī Kṛṣṇa, one immediately acquires causeless knowledge and detachment from the world.
Creating 1008 Video Clips of Srila Prabhupada's Audio Messages
Srila Prabhupada Speaks Around the World
Pages with Audio Clips in Vaniquotes
You can now listen while you read statements from Srila Prabhpada's lectures, conversations, interviews and morning walks, all organized thematically by date, location and subject.
What is Vanisource?
His Divine Grace A. C. Bhaktivedanta Swami Prabhupada's complete teachings
Vanisource is the collected teachings of His Divine Grace A. C. Bhaktivedanta Swami Prabhupāda, including all the books, lectures, letters and conversations. This is a wonderful facility to read and study Srila Prabhupada's teachings online. Vanisource will also serve as reference for Vaniquotes and the other petals of Vanipedia.
Who is Srila Prabhupāda?
Authorized and empowered
A. C. Bhaktivedanta Swami Prabhupāda is a self-realized, pure devotee of Lord Kṛṣṇa. While physically present among us he shared the essence of Vedic knowledge liberally and without prejudice. His only desire was to fulfill his spiritual master's desire – to introduce the process of Kṛṣṇa consciousness to the world.
Srila Prabhupāda showed us the importance of living life according to the directions given in scripture. He spoke and wrote profusely so that many may have this guidance in life, and he wished that every person on the planet had the oppotunity to read his books now and in the future.
Śrīla Prabhupāda translated and commented on over fifty volumes of ancient Vedic scripture before his physical demise on November 14, 1977. His authority to write, and to teach and train students in the science of self-realization was given to him by his guru, Śrīla Bhaktisiddhānta Sarasvatī Gosvāmī Mahārāja (1874-1937), who came in the disciplic succession from Lord Caitanya Mahāprabhu (1486-1534), Himself an incarnation of Lord Kṛṣṇa. Śrīla Prabhupāda founded the International Society for Krishna Consciousness, ISKCON.
How can I help?
Vaniseva
As we're currently importing all of Srila Prabhupada's teachings, including lectures, letters and conversations, there is nothing to do in Vanisource for the moment. Please head over to Vaniseva.org to see if there is any help you can offer to build the other parts of Vanipedia.
If you want to find out more about the whole project then everything is explained here.
If you do not have the time to help out, please consider to contribute to the project by making a donation.
Other resources
hare kṛṣṇa hare kṛṣṇa - kṛṣṇa kṛṣṇa hare hare - hare rāma hare rāma - rāma rāma hare hare
All material by His Divine Grace A.C. Bhaktivedanta Swami Prabhupāda copyright © The Bhaktivedanta Book Trust
Images copyright © The Bhaktivedanta Book Trust, and The Bhaktivedanta Book Trust, andInternational, Inc.
Compilation copyright © Bhaktivedanta Library Services a.s.b.l.