Devotees serve Vanipedia and Vanipedia serves the world - a success formula to save humanity
Collaborate with us to invoke and fully manifest Srila Prabhupada's Vani-presence.
---
Srimad-Bhagavatam (1972-77)
From Vanisource
Below are links to PDF files with scans of Srila Prabhupada's original Srimad-Bhagavatams printed between 1972 and 1977. Please go here for transcriptions.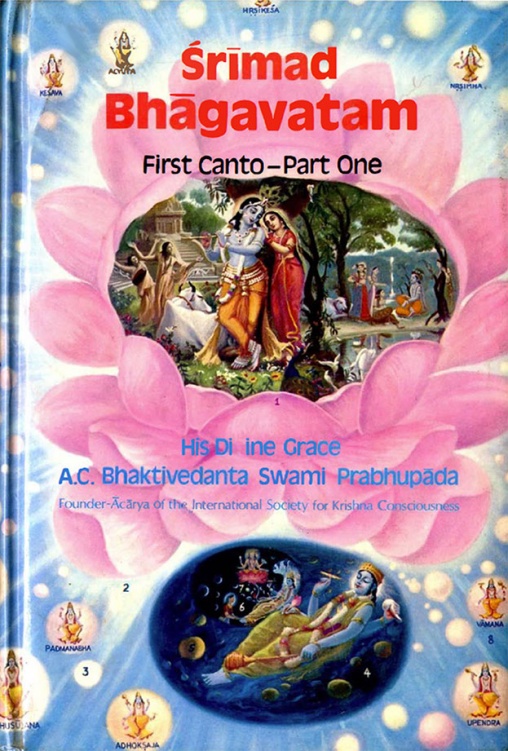 Śrīmad-Bhāgavatam Canto 1 Volume 1 (1972) PDF
Śrīmad-Bhāgavatam Canto 1 Volume 2 (1972) PDF
Śrīmad-Bhāgavatam Canto 1 Volume 3 (1972) PDF
Śrīmad-Bhāgavatam Canto 2 Volume 1 (1972) PDF
Śrīmad-Bhāgavatam Canto 2 Volume 2 (1972) PDF
Śrīmad-Bhāgavatam Canto 3 Volume 1 (1972) PDF
Śrīmad-Bhāgavatam Canto 3 Volume 2 (1974) PDF
Śrīmad-Bhāgavatam Canto 3 Volume 3 (1974) PDF
Śrīmad-Bhāgavatam Canto 3 Volume 4 (1974) PDF
Śrīmad-Bhāgavatam Canto 4 Volume 1 (1972) PDF
Śrīmad-Bhāgavatam Canto 4 Volume 2 (1972) PDF
Śrīmad-Bhāgavatam Canto 4 Volume 3 (1972) PDF
Śrīmad-Bhāgavatam Canto 4 Volume 4 (1972) PDF
Śrīmad-Bhāgavatam Canto 5 Volume 1 (1975) PDF
Śrīmad-Bhāgavatam Canto 5 Volume 2 (1975) PDF
Śrīmad-Bhāgavatam Canto 6 Volume 1 (1975) PDF
Śrīmad-Bhāgavatam Canto 6 Volume 2 (1975) PDF
Śrīmad-Bhāgavatam Canto 6 Volume 3 (1976) PDF
Śrīmad-Bhāgavatam Canto 7 Volume 1 (1976) PDF
Śrīmad-Bhāgavatam Canto 7 Volume 2 (1976) PDF
Śrīmad-Bhāgavatam Canto 7 Volume 3 (1976) PDF
Śrīmad-Bhāgavatam Canto 8 Volume 1 (1976) PDF
Śrīmad-Bhāgavatam Canto 8 Volume 2 (1976) PDF
Śrīmad-Bhāgavatam Canto 8 Volume 3 (1976) PDF
Śrīmad-Bhāgavatam Canto 9 Volume 1 (1977) PDF
Śrīmad-Bhāgavatam Canto 9 Volume 2 (1977) PDF
Śrīmad-Bhāgavatam Canto 9 Volume 3 (1977) PDF
Śrīmad-Bhāgavatam Canto 10 Volume 1 (1977) PDF
Śrīmad-Bhāgavatam Canto 10 Volume 2 (1977) PDF