Radharani

Krishna

Caitanya

God

God's Holy Names

Krishna Consciousness Movement

Who Is Srila Prabhupada

his Timeline

Months in his Life

Training his Disciples

Questions

Bhagavad-gita

Devotees of God

Devotional Service to God

Discipleship

Guru / Acharya

Essential Subjects

Nectar Drops

What's in Vanipedia now

Glorious Personalities

Yoga

Collaborate with us to invoke and fully manifest Srila Prabhupada's Vani-presence.
---
SB 7.9.3
From Vanisource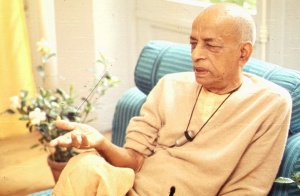 TEXT 3
prahrādaṁ preṣayām āsa
brahmāvasthitam antike
tāta praśamayopehi
sva-pitre kupitaṁ prabhum
SYNONYMS
prahrādam—Prahlāda Mahārāja; preṣayām āsa—requested; brahmā—Lord Brahmā; avasthitam—being situated; antike—very near; tāta—my dear son; praśamaya—just try to appease; upehi—go near; sva-pitre—because of your father's demoniac activities; kupitam—greatly angered; prabhum—the Lord.
TRANSLATION
Thereafter Lord Brahmā requested Prahlāda Mahārāja, who was standing very near him: My dear son, Lord Nṛsiṁhadeva is extremely angry at your demoniac father. Please go forward and appease the Lord.