Radharani

Krishna

Caitanya

God

God's Holy Names

Krishna Consciousness Movement

Who Is Srila Prabhupada

his Timeline

Months in his Life

Training his Disciples

Questions

Bhagavad-gita

Devotees of God

Devotional Service to God

Discipleship

Guru / Acharya

Essential Subjects

Nectar Drops

What's in Vanipedia now

Glorious Personalities

Yoga

Collaborate with us to invoke and fully manifest Srila Prabhupada's Vani-presence.
---
SB 7.7.44
From Vanisource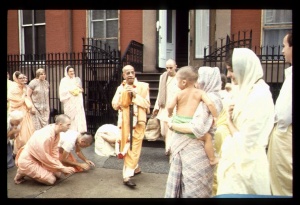 TEXT 44
kim u vyavahitāpatya-
dārāgāra-dhanādayaḥ
rājya-kośa-gajāmātya-
bhṛtyāptā mamatāspadāḥ
SYNONYMS
kim u—what to speak of; vyavahita—separated; apatya—children; dāra—wives; agāra—residences; dhana—wealth; ādayaḥ—and so on; rājya—kingdoms; kośa—treasuries; gaja—big elephants and horses; amātya—ministers; bhṛtya—servants; āptāḥ—relatives; mamatā-āspadāḥ—false seats or abodes of intimate relationship ("mineness").
TRANSLATION
Since the body itself is ultimately meant to become stool or earth, what is the meaning of the paraphernalia related to the body, such as wives, residences, wealth, children, relatives, servants, friends, kingdoms, treasuries, animals and ministers? They are also temporary. What more can be said about this?