Radharani

Krishna

Caitanya

God

God's Holy Names

Krishna Consciousness Movement

Who Is Srila Prabhupada

his Timeline

Months in his Life

Training his Disciples

Questions

Bhagavad-gita

Devotees of God

Devotional Service to God

Discipleship

Guru / Acharya

Essential Subjects

Nectar Drops

What's in Vanipedia now

Glorious Personalities

Yoga

Collaborate with us to invoke and fully manifest Srila Prabhupada's Vani-presence.
---
SB 7.2.20
From Vanisource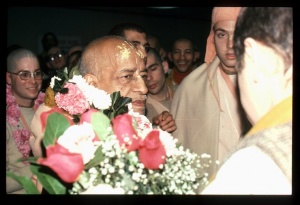 TEXT 20
śrī-hiraṇyakaśipur uvāca
ambāmba he vadhūḥ putrā
vīraṁ mārhatha śocitum
ripor abhimukhe ślāghyaḥ
śūrāṇāṁ vadha īpsitaḥ
SYNONYMS
śrī-hiraṇyakaśipuḥ uvāca—Hiraṇyakaśipu said; amba amba—my mother, my mother; he—O; vadhūḥ—my sister-in-law; putrāḥ—O sons of my brother; vīram—the hero; mā—not; arhatha—you deserve; śocitum—to lament about; ripoḥ—of the enemy; abhimukhe—in front; ślāghyaḥ—glorious; śūrāṇām—of those who are actually great; vadhaḥ—killing; īpsitaḥ—desired.
TRANSLATION
Hiraṇyakaśipu said: My dear mother, sister-in-law and nephews, you should not lament for the death of the great hero, for a hero's death in front of his enemy is glorious and desirable.