Radharani

Krishna

Caitanya

God

God's Holy Names

Krishna Consciousness Movement

Who Is Srila Prabhupada

his Timeline

Months in his Life

Training his Disciples

Questions

Bhagavad-gita

Devotees of God

Devotional Service to God

Discipleship

Guru / Acharya

Essential Subjects

Nectar Drops

What's in Vanipedia now

Glorious Personalities

Yoga

Collaborate with us to invoke and fully manifest Srila Prabhupada's Vani-presence.
---
SB 7.2.17
From Vanisource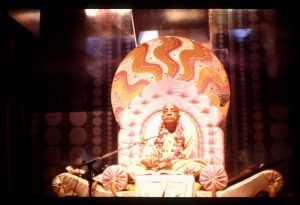 TEXT 17
hiraṇyakaśipur bhrātuḥ
samparetasya duḥkhitaḥ
kṛtvā kaṭodakādīni
bhrātṛ-putrān asāntvayat
SYNONYMS
hiraṇyakaśipuḥ—Hiraṇyakaśipu; bhrātuḥ—of the brother; samparetasya—deceased; duḥkhitaḥ—being very much distressed; kṛtvā—performing; kaṭodaka-ādīni—ceremonies observed after a death; bhrātṛ-putrān—the sons of his brother; asāntvayat—pacified.
TRANSLATION
After performing the ritualistic observances for the death of his brother, Hiraṇyakaśipu, being extremely unhappy, tried to pacify his nephews.