SB 7.15.80
From Vanisource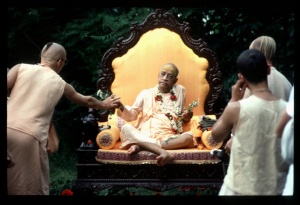 TEXT 80
iti dākṣāyaṇīnāṁ te
pṛthag vaṁśāḥ prakīrtitāḥ
devāsura-manuṣyādyā
lokā yatra carācarāḥ
SYNONYMS
iti—thus; dākṣāyaṇīnām—of the daughters of Mahārāja Dakṣa, like Aditi and Diti; te—to you; pṛthak—separately; vaṁśāḥ—the dynasties; prakīrtitāḥ—described (by me); deva—the demigods; asura—demons; manuṣya—and human beings; ādyāḥ—and so on; lokāḥ—all the planets within the universe; yatra—wherein; cara-acarāḥ—moving and nonmoving living entities.
TRANSLATION
On all the planets within this universe, the varieties of living entities, moving and nonmoving, including the demigods, demons and human beings, were all generated from the daughters of Mahārāja Dakṣa. I have now described them and their different dynasties.

Thus end the Bhaktivedanta purports of the Seventh Canto, Fifteenth Chapter, of the Śrīmad-Bhāgavatam, entitled "Instructions for Civilized Human Beings."