Radharani

Krishna

Caitanya

God

God's Holy Names

Krishna Consciousness Movement

Who Is Srila Prabhupada

his Timeline

Months in his Life

Training his Disciples

Questions

Bhagavad-gita

Devotees of God

Devotional Service to God

Discipleship

Guru / Acharya

Essential Subjects

Nectar Drops

What's in Vanipedia now

Glorious Personalities

Yoga

Collaborate with us to invoke and fully manifest Srila Prabhupada's Vani-presence.
---
SB 7.12.2
From Vanisource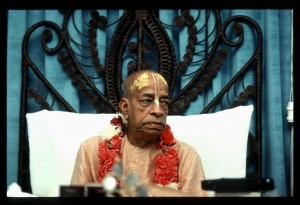 TEXT 2
sāyaṁ prātar upāsīta
gurv-agny-arka-surottamān
sandhye ubhe ca yata-vāg
japan brahma samāhitaḥ
SYNONYMS
sāyam—in the evening; prātaḥ—in the morning; upāsīta—he should worship; guru—the spiritual master; agni—the fire (by a fire sacrifice); arka—the sun; sura-uttamān—and Lord Viṣṇu, Puruṣottama, the best of personalities; sandhye—morning and evening; ubhe—both; ca—also; yata-vāk—without talking, being silent; japan—murmuring; brahma—the Gāyatrī mantra; samāhitaḥ—being fully absorbed.
TRANSLATION
At both junctions of day and night, namely, in the early morning and in the evening, he should be fully absorbed in thoughts of the spiritual master, fire, the sun-god and Lord Viṣṇu and by chanting the Gāyatrī mantra he should worship them.