SB 7.10.21
From Vanisource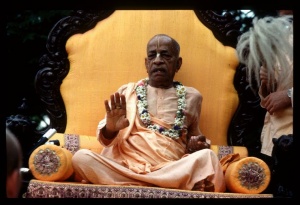 TEXT 21
bhavanti puruṣā loke
mad-bhaktās tvām anuvratāḥ
bhavān me khalu bhaktānāṁ
sarveṣāṁ pratirūpa-dhṛk
SYNONYMS
bhavanti—become; puruṣāḥ—persons; loke—in this world; mat-bhaktāḥ—My pure devotees; tvām—you; anuvratāḥ—following in your footsteps; bhavān—you; me—My; khalu—indeed; bhaktānām—of all devotees; sarveṣām—in different mellows; pratirūpa-dhṛk—tangible example.
TRANSLATION
Those who follow your example will naturally become My pure devotees. You are the best example of My devotee, and others should follow in your footsteps.
PURPORT
In this connection, Śrīla Madhvācārya quotes a verse from the Skanda Purāṇa:
ṛte tu tāttvikān devān
nāradādīṁs tathaiva ca
prahrādād uttamaḥ ko nu
viṣṇu-bhaktau jagat-traye
There are many, many devotees of the Supreme Personality of Godhead, and they have been enumerated in Śrīmad-Bhāgavatam (SB 6.3.20) as follows:
svayambhūr nāradaḥ śambhuḥ
kumāraḥ kapilo manuḥ
prahlādo janako bhīṣmo
balir vaiyāsakir vayam
Of the twelve authorized devotees—Lord Brahmā, Nārada, Lord Śiva, Kapila, Manu and so on—Prahlāda Mahārāja is understood to be the best example.