Radharani

Krishna

Caitanya

God

God's Holy Names

Krishna Consciousness Movement

Who Is Srila Prabhupada

his Timeline

Months in his Life

Training his Disciples

Questions

Bhagavad-gita

Devotees of God

Devotional Service to God

Discipleship

Guru / Acharya

Essential Subjects

Nectar Drops

What's in Vanipedia now

Glorious Personalities

Yoga

Collaborate with us to invoke and fully manifest Srila Prabhupada's Vani-presence.
---
SB 7.1.41
From Vanisource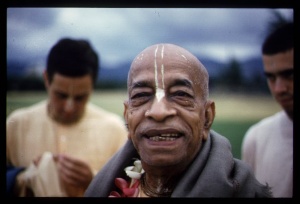 TEXT 41
hato hiraṇyakaśipur
hariṇā siṁha-rūpiṇā
hiraṇyākṣo dharoddhāre
bibhratā śaukaraṁ vapuḥ
SYNONYMS
hataḥ—killed; hiraṇyakaśipuḥ—Hiraṇyakaśipu; hariṇā—by Hari, Viṣṇu; siṁha-rūpiṇā—in the form of a lion (Lord Narasiṁha); hiraṇyākṣaḥ—Hiraṇyākṣa; dharā-uddhāre—to lift the earth; bibhratā—assuming; śaukaram—the boarlike; vapuḥ—form.
TRANSLATION
Appearing as Nṛsiṁhadeva, the Supreme Personality of Godhead, Śrī Hari, killed Hiraṇyakaśipu. When the Lord delivered the planet earth, which had fallen in the Garbhodaka Ocean, Hiraṇyākṣa tried to hinder Him, and then the Lord, as Varāha, killed Hiraṇyākṣa.