Radharani

Krishna

Caitanya

God

God's Holy Names

Krishna Consciousness Movement

Who Is Srila Prabhupada

his Timeline

Months in his Life

Training his Disciples

Questions

Bhagavad-gita

Devotees of God

Devotional Service to God

Discipleship

Guru / Acharya

Essential Subjects

Nectar Drops

What's in Vanipedia now

Glorious Personalities

Yoga

Collaborate with us to invoke and fully manifest Srila Prabhupada's Vani-presence.
---
SB 7.1.36
From Vanisource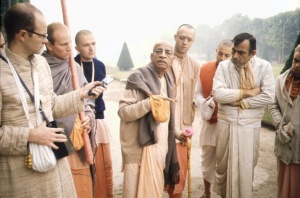 TEXT 36
śrī-nārada uvāca
ekadā brahmaṇaḥ putrā
viṣṇu-lokaṁ yadṛcchayā
sanandanādayo jagmuś
caranto bhuvana-trayam
SYNONYMS
śrī-nāradaḥ uvāca—Śrī Nārada Muni said; ekadā—once upon a time; brahmaṇaḥ—of Lord Brahmā; putrāḥ—the sons; viṣṇu—of Lord Viṣṇu; lokam—the planet; yadṛcchayā—by chance; sanandana-ādayaḥ—Sanandana and the others; jagmuḥ—went; carantaḥ—traveling about; bhuvana-trayam—the three worlds.
TRANSLATION
The great saint Nārada said: Once upon a time when the four sons of Lord Brahmā named Sanaka, Sanandana, Sanātana and Sanat-kumāra were wandering throughout the three worlds, they came by chance to Viṣṇuloka.