Radharani

Krishna

Caitanya

God

God's Holy Names

Krishna Consciousness Movement

Who Is Srila Prabhupada

his Timeline

Months in his Life

Training his Disciples

Questions

Bhagavad-gita

Devotees of God

Devotional Service to God

Discipleship

Guru / Acharya

Essential Subjects

Nectar Drops

What's in Vanipedia now

Glorious Personalities

Yoga

Collaborate with us to invoke and fully manifest Srila Prabhupada's Vani-presence.
---
SB 7.1.22
From Vanisource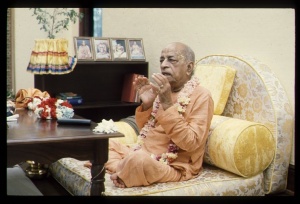 TEXT 22
śrī-bādarāyaṇir uvāca
rājñas tad vaca ākarṇya
nārado bhagavān ṛṣiḥ
tuṣṭaḥ prāha tam ābhāṣya
śṛṇvatyās tat-sadaḥ kathāḥ
SYNONYMS
śrī-bādarāyaṇiḥ uvāca—Śrī Śukadeva Gosvāmī said; rājñaḥ—of the King (Yudhiṣṭhira); tat—those; vacaḥ—words; ākarṇya—after hearing; nāradaḥ—Nārada Muni; bhagavān—powerful; ṛṣiḥ—sage; tuṣṭaḥ—being satisfied; prāha—spoke; tam—him; ābhāṣya—after addressing; śṛṇvatyāḥ tat-sadaḥ—in the presence of the assembly members; kathāḥ—the topics.
TRANSLATION
Śrī Śukadeva Gosvāmī said: After hearing the request of Mahārāja Yudhiṣṭhira, Nārada Muni, the most powerful spiritual master, who knew everything, was very pleased. Thus he replied in the presence of everyone taking part in the yajña.