SB 5.26.40
From Vanisource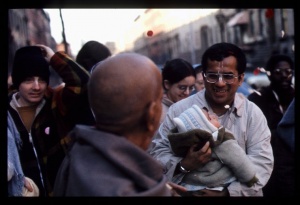 TEXT 40
bhū-dvīpa-varṣa-sarid-adri-nabhaḥ-samudra-
pātāla-diṅ-naraka-bhāgaṇa-loka-saṁsthā
gītā mayā tava nṛpādbhutam īśvarasya
sthūlaṁ vapuḥ sakala-jīva-nikāya-dhāma
SYNONYMS
bhū—of this planet earth; dvīpa—and other different planetary systems; varṣa—of tracts of land; sarit—rivers; adri—mountains; nabhaḥ—the sky; samudra—oceans; pātāla—lower planets; dik—directions; naraka—the hellish planets; bhāgaṇa-loka—the luminaries and higher planets; saṁsthā—the situation; gītā—described; mayā—by me; tava—for you; nṛpa—O King; adbhutam—wonderful; īśvarasya—of the Supreme Personality of Godhead; sthūlam—gross; vapuḥ—body; sakala-jīva-nikāya—of all the masses of living entities; dhāma—which is the place of repose.
TRANSLATION
My dear King, I have now described for you this planet earth, other planetary systems, and their lands [varṣas], rivers and mountains. I have also described the sky, the oceans, the lower planetary systems, the directions, the hellish planetary systems and the stars. These constitute the virāṭ-rūpa, the gigantic material form of the Lord, on which all living entities repose. Thus I have explained the wonderful expanse of the external body of the Lord.

Thus end the Bhaktivedanta purports of the Fifth Canto, Twenty-sixth Chapter, of Śrīmad-Bhāgavatam, entitled "A Description of the Hellish Planets."