Radharani

Krishna

Caitanya

God

God's Holy Names

Krishna Consciousness Movement

Who Is Srila Prabhupada

his Timeline

Months in his Life

Training his Disciples

Questions

Bhagavad-gita

Devotees of God

Devotional Service to God

Discipleship

Guru / Acharya

Essential Subjects

Nectar Drops

What's in Vanipedia now

Glorious Personalities

Yoga

Collaborate with us to invoke and fully manifest Srila Prabhupada's Vani-presence.
---
SB 4.22.60
From Vanisource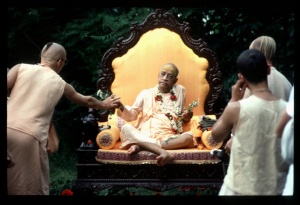 TEXT 60
mātariśveva sarvātmā
balena mahasaujasā
aviṣahyatayā devo
bhagavān bhūta-rāḍ iva
SYNONYMS
mātariśvā—the air; iva—like; sarva-ātmā—all-pervading; balena—by bodily strength; mahasā ojasā—by courage and power; aviṣahyatayā—by intolerance; devaḥ—the demigod; bhagavān—the most powerful; bhūta-rāṭ iva—like Rudra, or Sadāśiva.
TRANSLATION
In his bodily strength and in the strength of his senses, Mahārāja Pṛthu was as strong as the wind, which can go anywhere and everywhere. As far as his intolerance was concerned, he was just like the all-powerful Rudra expansion of Lord Śiva, or Sadāśiva.