Radharani

Krishna

Caitanya

God

God's Holy Names

Krishna Consciousness Movement

Who Is Srila Prabhupada

his Timeline

Months in his Life

Training his Disciples

Questions

Bhagavad-gita

Devotees of God

Devotional Service to God

Discipleship

Guru / Acharya

Essential Subjects

Nectar Drops

What's in Vanipedia now

Glorious Personalities

Yoga

Collaborate with us to invoke and fully manifest Srila Prabhupada's Vani-presence.
---
SB 4.10.3
From Vanisource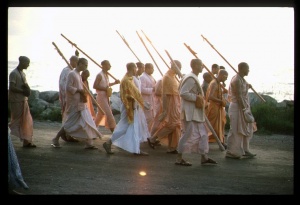 TEXT 3
uttamas tv akṛtodvāho
mṛgayāyāṁ balīyasā
hataḥ puṇya-janenādrau
tan-mātāsya gatiṁ gatā
SYNONYMS
uttamaḥ—Uttama; tu—but; akṛta—without; udvāhaḥ—marriage; mṛgayāyām—on a hunting excursion; balīyasā—very powerful; hataḥ—was killed; puṇya-janena—by a Yakṣa; adrau—on the Himalaya Mountains; tat—his; mātā—mother (Suruci); asya—of her son; gatim—way; gatā—followed.
TRANSLATION
Dhruva Mahārāja's younger brother Uttama, who was still unmarried, once went on a hunting excursion and was killed by a powerful Yakṣa in the Himalaya Mountains. Along with him, his mother, Suruci, also followed the path of her son [she died].