Radharani

Krishna

Caitanya

God

God's Holy Names

Krishna Consciousness Movement

Who Is Srila Prabhupada

his Timeline

Months in his Life

Training his Disciples

Questions

Bhagavad-gita

Devotees of God

Devotional Service to God

Discipleship

Guru / Acharya

Essential Subjects

Nectar Drops

What's in Vanipedia now

Glorious Personalities

Yoga

Collaborate with us to invoke and fully manifest Srila Prabhupada's Vani-presence.
---
SB 4.10.17
From Vanisource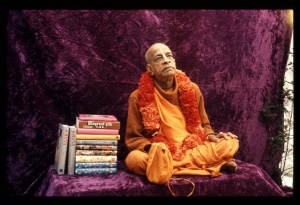 TEXT 17
tasya te cāpa-nirmuktā
bhittvā varmāṇi rakṣasām
kāyān āviviśus tigmā
girīn aśanayo yathā
SYNONYMS
tasya—of Dhruva; te—those arrows; cāpa—from the bow; nirmuktāḥ—released; bhittvā—having pierced; varmāṇi—shields; rakṣasām—of the demons; kāyān—bodies; āviviśuḥ—entered; tigmāḥ—sharp; girīn—mountains; aśanayaḥ—thunderbolts; yathā—just like.
TRANSLATION
The sharp arrows released from the bow of Dhruva Mahārāja pierced the shields and bodies of the enemy, like the thunderbolts released by the King of heaven, which dismantle the bodies of the mountains.