SB 12.4.43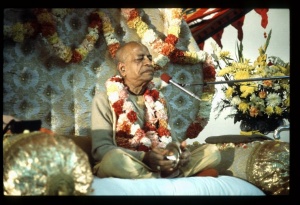 Please note: The synonyms, translation and purport of this verse were composed by disciples of Śrīla Prabhupāda
TEXT 43
imāṁ vakṣyaty asau sūta
ṛṣibhyo naimiṣālaye
dīrgha-satre kuru-śreṣṭha
sampṛṣṭaḥ śaunakādibhiḥ
SYNONYMS
imam—this; vakṣyati—will speak; asau—present before us; sūtaḥ—Sūta Gosvāmī; ṛṣibhyaḥ—to the sages; naimiṣa-ālaye—in the forest of Naimiṣa; dīrgha-satre—at the lengthy sacrificial performance; kuru-śreṣṭha—O best of the Kurus; sampṛṣṭaḥ—questioned; śaunaka-ādibhiḥ—by the assembly led by Śaunaka.
Translation and purport composed by disciples of Śrīla Prabhupāda
---
TRANSLATION
O best of the Kurus, the same Sūta Gosvāmī who is sitting before us will speak this Bhāgavatam to the sages assembled in the great sacrifice at Naimiṣāraṇya. This he will do when questioned by the members of the assembly, headed by Śaunaka.

Thus end the purports of the humble servants of His Divine Grace A.C. Bhaktivedanta Swami Prabhupāda to the Twelfth Canto, Fourth Chapter, of the Śrīmad-Bhāgavatam, entitled "The Four Categories of Universal Annihilation."