SB 11.27.30-31
From Vanisource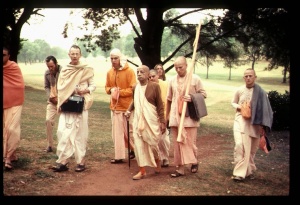 Please note: The synonyms, translation and purport of this verse were composed by disciples of Śrīla Prabhupāda
TEXTS 30-31
candanośīra-karpūra-
kuṅkumāguru-vāsitaiḥ
salilaiḥ snāpayen mantrair
nityadā vibhave sati
svarṇa-gharmānuvākena
mahāpuruṣa-vidyayā
pauruṣeṇāpi sūktena
sāmabhī rājanādibhiḥ
SYNONYMS
candana—with sandalwood paste; uśīra—the fragrant uśīra root; karpūra—camphor; kuṅkuma—vermilion; aguru—aloes wood; vāsitaiḥ—which are perfumed; salilaiḥ—by different kinds of water; snāpayet—one should bathe the Deity; mantraiḥ—with mantras; nityadā—every day; vibhave—assets; sati—to the extent that there are; svarṇa-gharma-anuvākena—by the chapter of the Vedas known as Svarṇa-gharma; mahā-puruṣa-vidyayā—by the incantation called Mahāpuruṣa; pauruṣeṇa—by the Puruṣa-sūkta; api—also; sūktena—the Vedic hymn; sāmabhiḥ—by songs from the Sāma Veda; rājana-ādibhiḥ—known as Rājana and so on.
Translation and purport composed by disciples of Śrīla Prabhupāda
---
TRANSLATION
The worshiper should bathe the Deity every day, as opulently as his assets permit, using waters scented with sandalwood, uśīra root, camphor, kuṅkuma and aguru. He should also chant various Vedic hymns, such as the anuvāka known as Svarṇa-gharma, the Mahāpuruṣa-vidyā, the Puruṣa-sūkta and various songs of the Sāma Veda, such as the Rājana and the Rohiṇya.
PURPORT
The Puruṣa-sūkta prayer, beginning oṁ sahasra-śīrṣā-puruṣaḥ sahasrākṣaḥ sahasra-pāt, is contained within the Ṛg Veda.