SB 10.46.32-33
From Vanisource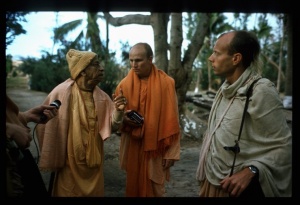 Please note: The synonyms, translation and purport of this verse were composed by disciples of Śrīla Prabhupāda
TEXTS 32-33
yasmin janaḥ prāṇa-viyoga-kāle
kṣanaṁ samāveśya mano 'viśuddham
nirhṛtya karmāśayam āśu yāti
parāṁ gatiṁ brahma-mayo 'rka-varṇaḥ
tasmin bhavantāv akhilātma-hetau
nārāyaṇe kāraṇa-martya-mūrtau
bhāvaṁ vidhattāṁ nitarāṁ mahātman
kiṁ vāvaśiṣṭaṁ yuvayoḥ su-kṛtyam
SYNONYMS
yasmin—in whom; janaḥ—any person; prāṇa—from one's life air; viyoga—of separation; kāle—at the time; kṣaṇam—for a moment; samāveśya—absorbing; manaḥ—one's mind; aviśuddham—impure; nirhṛtya—eradicating; karma—of the reactions of material work; āśayam—all traces; āśu—immediately; yāti—he goes; parām—to the supreme; gatim—destination; brahma-mayaḥ—in a purely spiritual form; arka—like the sun; varṇaḥ—whose color; tasmin—to Him; bhavantau—your good selves; akhila—of all; ātma—the Supreme Soul; hetau—and reason for existence; nārāyaṇe—Lord Nārāyaṇa; kāraṇa—the cause of everything; martya—human; mūrtau—in a form; bhāvam—pure love; vidhattām—have given; nitarām—exceedingly; mahā-ātman—to the perfectly complete; kim vā—then what; avaśiṣṭam—remaining; yuvayoḥ—for you; su-kṛtyam—required pious activity.
Translation and purport composed by disciples of Śrīla Prabhupāda
---
TRANSLATION
Anyone, even a person in an impure state, who absorbs his mind in Him for just a moment at the time of death burns up all traces of sinful reactions and immediately attains the supreme transcendental destination in a pure, spiritual form as effulgent as the sun. You two have rendered exceptional loving service to Him, Lord Nārāyaṇa, the Supersoul of all and the cause of all existence, the great soul who, although the original cause of everything, has a humanlike form. What pious deeds could still be required of you?