SB 10.40.17-18
From Vanisource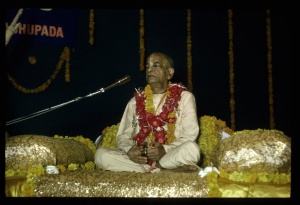 Please note: The synonyms, translation and purport of this verse were composed by disciples of Śrīla Prabhupāda
TEXTS 17-18
namaḥ kāraṇa-matsyāya
pralayābdhi-carāya ca
hayaśīrṣṇe namas tubhyaṁ
madhu-kaiṭabha-mṛtyave
akūpārāya bṛhate
namo mandara-dhāriṇe
kṣity-uddhāra-vihārāya
namaḥ śūkara-mūrtaye
SYNONYMS
namaḥ—obeisances; kāraṇa—who is the original cause of creation; matsyāya—to the Supreme Lord's appearance as a fish; pralaya—of annihilation; abdhi—in the ocean; carāya—who moved about; ca—and; haya-śīrṣṇe—to the incarnation who appeared with the head of a horse; namaḥ—obeisances; tubhyam—to You; madhu-kaiṭabha—of the demons Madhu and Kaiṭabha; mṛtyave—to the killer; akūpārāya—to the tortoise; bṛhate—huge; namaḥ—obeisances; mandara—of Mandara Mountain; dhāriṇe—to the holder; kṣiti—of the earth; uddhāra—the lifting up; vihārāya—whose pleasure; namaḥ—obeisances; śūkara—of a boar; mūrtaye—to the form.
Translation and purport composed by disciples of Śrīla Prabhupāda
---
TRANSLATION
I offer my obeisances to You, the cause of the creation, Lord Matsya, who swam about in the ocean of dissolution, to Lord Hayagrīva, the killer of Madhu and Kaiṭabha, to the immense tortoise [Lord Kūrma], who supported Mandara Mountain, and to the boar incarnation [Lord Varāha], who enjoyed lifting the earth.
PURPORT
The Viśva-kośa dictionary states that the word akūpārāya indicates the king of tortoises.