SB 10.40.13-14
From Vanisource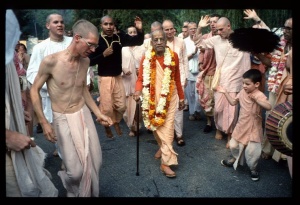 Please note: The synonyms, translation and purport of this verse were composed by disciples of Śrīla Prabhupāda
TEXTS 13-14
agnir mukhaṁ te 'vanir aṅghrir īkṣaṇaṁ
sūryo nabho nābhir atho diśaḥ śrutiḥ
dyauḥ kaṁ surendrās tava bāhavo 'rṇavāḥ
kukṣir marut prāṇa-balaṁ prakalpitam
romāṇi vṛkṣauṣadhayaḥ śiroruhā
meghāḥ parasyāsthi-nakhāni te 'drayaḥ
nimeṣaṇaṁ rātry-ahanī prajāpatir
meḍhras tu vṛṣṭis tava vīryam iṣyate
SYNONYMS
agniḥ—fire; mukham—face; te—Your; avaniḥ—the earth; aṅghriḥ—feet; ikṣaṇam—eye; sūryaḥ—the sun; nabhaḥ—the sky; nābhiḥ—navel; atha u—and also; diśaḥ—the directions; śrutiḥ—sense of hearing; dyauḥ—heaven; kam—head; sura-indrāḥ—the chief demigods; tava—Your; bāhavaḥ—arms; arṇavāḥ—the oceans; kukṣiḥ—abdomen; marut—the wind; prāṇa—vital air; balam—and physical strength; prakalpitam—conceived; romāṇi—bodily hairs; vṛkṣa—the trees; oṣadhayaḥ—the plants; śiraḥ-ruhāḥ—the hair on Your head; meghāḥ—the clouds; parasya—of the Supreme; asthi—bones; nakhāni—and nails; te—of You; adrayaḥ—the mountains; nimeṣaṇam—the blinking of Your eyes; rātri-ahanī—day and night; prajāpatiḥ—the progenitor of mankind; meḍhraḥ—genitals; tu—and; vṛṣṭiḥ—the rain; tava—Your; vīryam—semen; iṣyate—is considered.
Translation and purport composed by disciples of Śrīla Prabhupāda
---
TRANSLATION
Fire is said to be Your face, the earth Your feet, the sun Your eye, and the sky Your navel. The directions are Your sense of hearing, the chief demigods Your arms, and the oceans Your abdomen. Heaven is thought to be Your head, and the wind Your vital air and physical strength. The trees and plants are the hairs on Your body, the clouds the hair on Your head, and the mountains the bones and nails of You, the Supreme. The passage of day and night is the blinking of Your eyes, the progenitor of mankind Your genitals, and the rain Your semen.