Collaborate with us to invoke and fully manifest Srila Prabhupada's Vani-presence.
---
SB 1.3.27
From Vanisource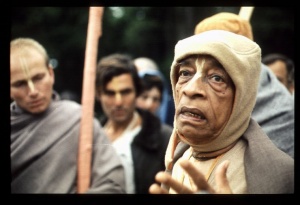 TEXT 27
ṛṣayo manavo devā
manu-putrā mahaujasaḥ
kalāḥ sarve harer eva
saprajāpatayaḥ smṛtāḥ
SYNONYMS
ṛṣayaḥ—all the sages; manavaḥ—all the Manus; devāḥ—all the demigods; manu-putrāḥ—all the descendants of Manu; mahā-ojasaḥ—very powerful; kalāḥ—portion of the plenary portion; sarve—all collectively; hareḥ—of the Lord; eva—certainly; sa-prajāpatayaḥ—along with the Prajāpatis; smṛtāḥ—are known.
TRANSLATION
All the ṛṣis, Manus, demigods and descendants of Manu, who are especially powerful, are plenary portions or portions of the plenary portions of the Lord. This also includes the Prajāpatis.
PURPORT
Those who are comparatively less powerful are called vibhūti, and those who are comparatively more powerful are called āveśa incarnations.