760203 - Letter to Svarupa and Ranadhira written from Mayapur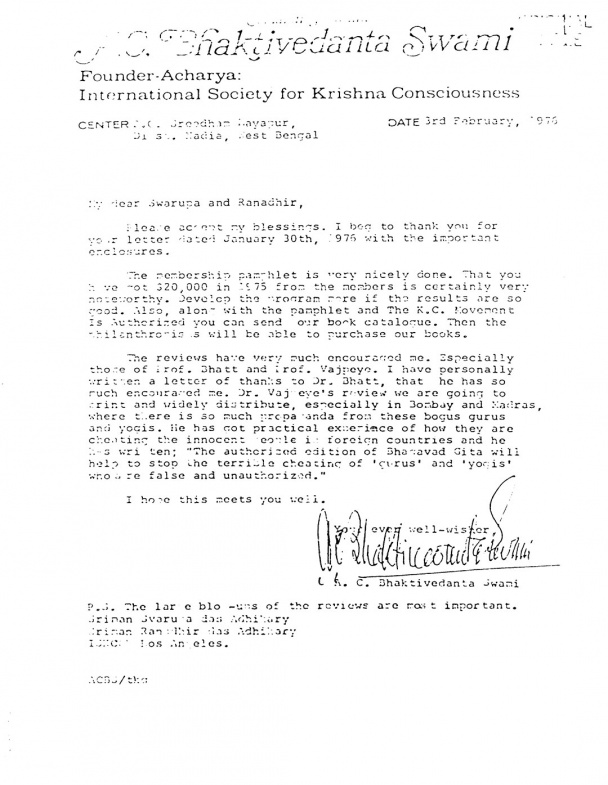 Tridandi Goswami
A.C. Bhaktivedanta Swami
Founder-Acharya:
International Society for Krishna Consciousness

DATE: 3rd February, 1976
CENTER P.O. Sreedham Mayapur,
Dist. Nadia, West Bengal
My dear Swarupa and Ranadhir,
Please accept my blessings. I beg to thank you for your letter dated January 30th, 1976 with the important enclosures.
The membership pamphlet is very nicely done. That you have got $20,000 in 1975 from the members is certainly very noteworthy. Develop the program more if the results are so good. Also, along with the pamphlet and The K.C. Movement Is Authorized you can send our book catalogue. Then the philanthropists will be able to purchase our books.
The reviews have very much encouraged me. Especially those of Prof. Bhatt and Prof. Vajpeye. I have personally written a letter of thanks to Dr. Bhatt, that he has so much encouraged me. Dr. Vajpeye's review we are gong to print and widely distribute, especially in Bombay and Madras, where there is so much propaganda from these bogus gurus and yogis. He has got practical experience of how they are cheating the innocent people in foreign countries and he has written; "The authorized edition of Bhagavad Gita will help to stop the terrible cheating of 'gurus' and 'yogis' who are false and unauthorized."
I hope this meets you well.
Your ever well wisher,



A.C. Bhaktivedanta Swami
P.S. The large blow-ups of the reviews are most important.
Sriman Svarupa das Adhikary
Sriman Randhir das Adhikary
ISKCON Los Angeles.

ACBS/tkg