730723 - Letter to Sukadeva written from Bhaktivedanta Manor, UK
From Vanisource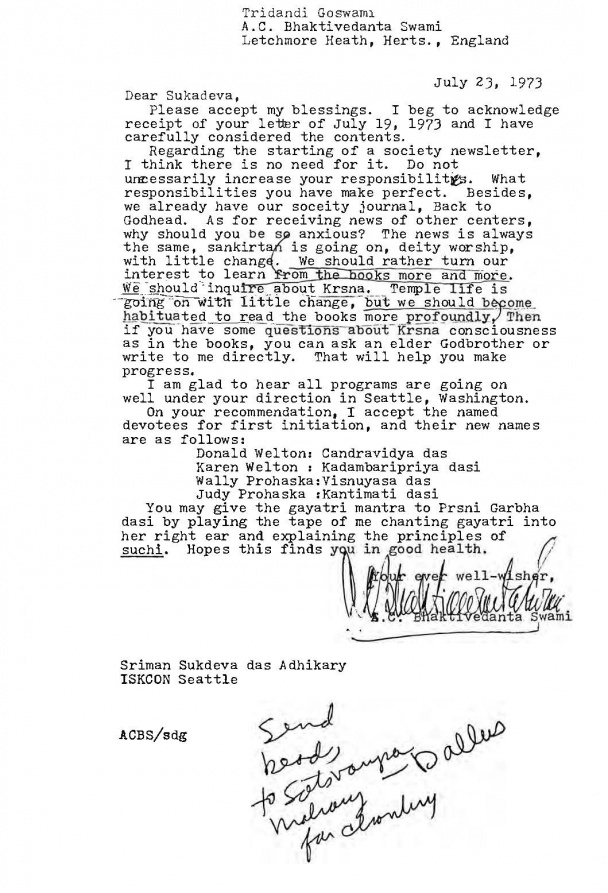 Tridandi Goswami
A.C. Bhaktivedanta Swami
Letchmore Heath, Herts., England

July 23, 1973
Dear Sukadeva,
Please accept my blessings. I beg to acknowledge receipt of your letter of July 19, 1973 and I have carefully considered the contents.
Regarding the starting of a society newsletter, I think there is no need for it. Do not unnecessarily increase your responsibilities. What responsibilities you have make perfect. Besides, we already have our society journal, Back to Godhead. As for receiving news of other centers, why should you be so anxious? The news is always the same, sankirtan is going on, deity worship, with little change. We should rather turn our interest to learn from the books more and more. We should inquire about Krsna. Temple life is going on with little change, but we should become habituated to read the books more profoundly. Then if you have some questions about Krsna consciousness as in the books, you can ask an elder Godbrother or write to me directly. That will help you make progress.
I am glad to hear all programs are going on well under your direction in Seattle, Washington.
On your recommendation, I accept the named devotees for first initiation, and their new names are as follows:
Donald Welton: Candravidya das
Karen Welton : Kadambaripriya dasi
Wally Prohaska:Visnuyasa das
Judy Prohaska :Kantimati dasi
You may give the gayatri mantra to Prsni Garbha dasi by playing the tape of me chanting gayatri into her right ear and explaining the principles of suchi. Hopes this finds you in good health.
Your ever well-wisher,



A.C. Bhaktivedanta Swami

Sriman Sukdeva das Adhikary
ISKCON Seattle

ACBS/sdg
Send beads to Satsvarupa Maharaja - Dallas for chanting [handwritten]