Radharani

Krishna

Caitanya

God

God's Holy Names

Krishna Consciousness Movement

Who Is Srila Prabhupada

his Timeline

Months in his Life

Training his Disciples

Questions

Bhagavad-gita

Devotees of God

Devotional Service to God

Discipleship

Guru / Acharya

Essential Subjects

Nectar Drops

What's in Vanipedia now

Glorious Personalities

Yoga

Collaborate with us to invoke and fully manifest Srila Prabhupada's Vani-presence.
---
700108 - Letter to Sudama written from Los Angeles
From Vanisource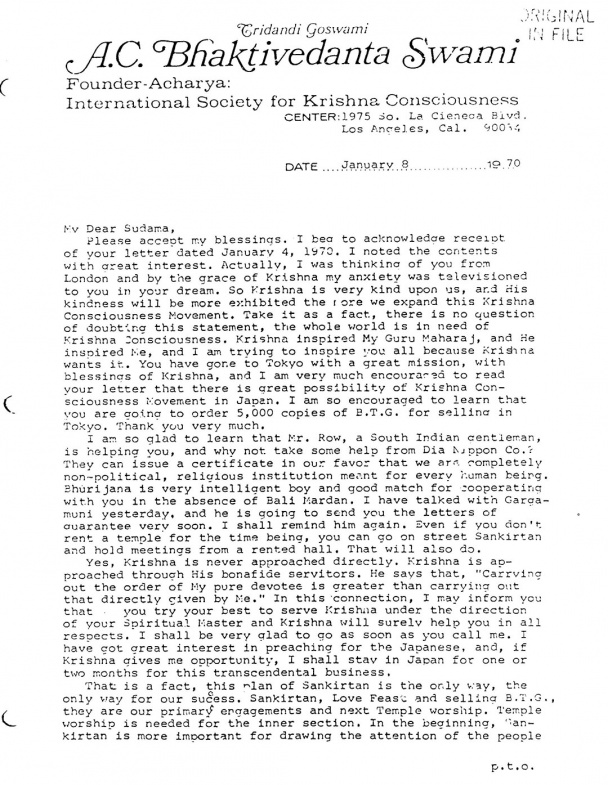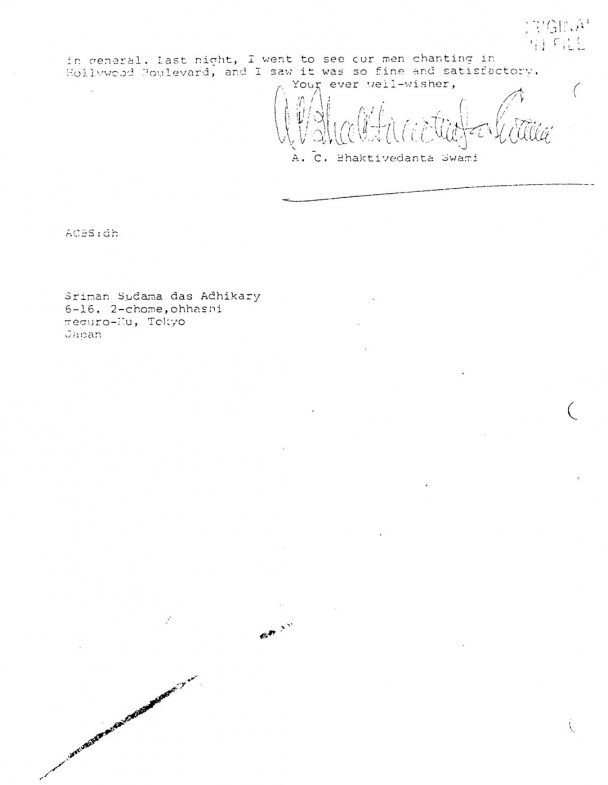 Tridandi Goswami
A.C. BHAKTIVEDANTA SWAMI
Founder-Acharya:
International Society For Krishna Consciousness
1975 So La Cienega Blvd.
Los Angeles, Cal. 90034
January 8, 1970

My Dear Sudama,
Please accept my blessings. I beg to acknowledge receipt of your letter dated January 4th, 1970. I noted the contents with great interest. Actually, I was thinking of you from London and by the grace of Krishna my anxiety was televisioned to you in your dream. So Krishna is very kind upon us, and His kindness will be more exhibited the more we expand this Krishna Consciousness Movement. Take it as a fact, there is no question of doubting this statement, the whole world is in need of Krishna Consciousness. Krishna inspired My Guru Maharaj, and He inspired Me, and I am trying to inspire you all because Krishna wants it. You have gone to Tokyo with a great mission, with blessings of Krishna, and I am very much encouraged to read your letter that there is great possibility of Krishna Consciousness Movement in Japan. I am so encouraged to learn that you are going to order 5,000 copies of BTG for selling in Tokyo. Thank you very much.
I am so glad to learn that Mr. Row, a South Indian gentleman, is helping you, and why not take some help from Dai Nippon Co.? They can issue a certificate in our favor that we are completely non-political, religious institution meant for every human being. Bhurijana is very intelligent boy and good match for cooperating with you in the absence of Bali Mardan. I have talked with Gargamuni yesterday, and he is going to send you the letters of guarantee very soon. I shall remind him again. Even if you don't rent a temple for the time being, you can go on street Sankirtan and hold meetings from a rented hall. That will also do.
Yes, Krishna is never approached directly. Krishna is approached through His bonafide servitors. He says that, "Carrying out the order of My pure devotee is greater than carrying out that directly given by Me." In this connection, I may inform you that you try your best to serve Krishna under the direction of your Spiritual Master and Krishna will surely help you in all respects. I shall be very glad to go as soon as you call me. I have got great interest in preaching for the Japanese, and, if Krishna gives me opportunity, I shall stay in Japan for one or two months for this transcendental business.
That is a fact, this plan of Sankirtan is the only way, the only way for our success. Sankirtan, Love Feast and selling BTG, they are our primary engagements and next Temple worship. Temple worship is needed for the inner section. In the beginning, Sankirtan is more important for drawing the attention of the people in general. Last night, I went to see our men chanting in Hollywood Boulevard, and I saw it was so fine and satisfactory.
Your ever well-wisher,
[signed]
A.C. Bhaktivedanta Swami

Sriman Sudama das Adhikary
6-16. 2- chome,ohhasni
Mecuro-Ku, Tokyo
Japan ACBS/db