690319 - Letter to Satsvarupa written from Hawaii
From Vanisource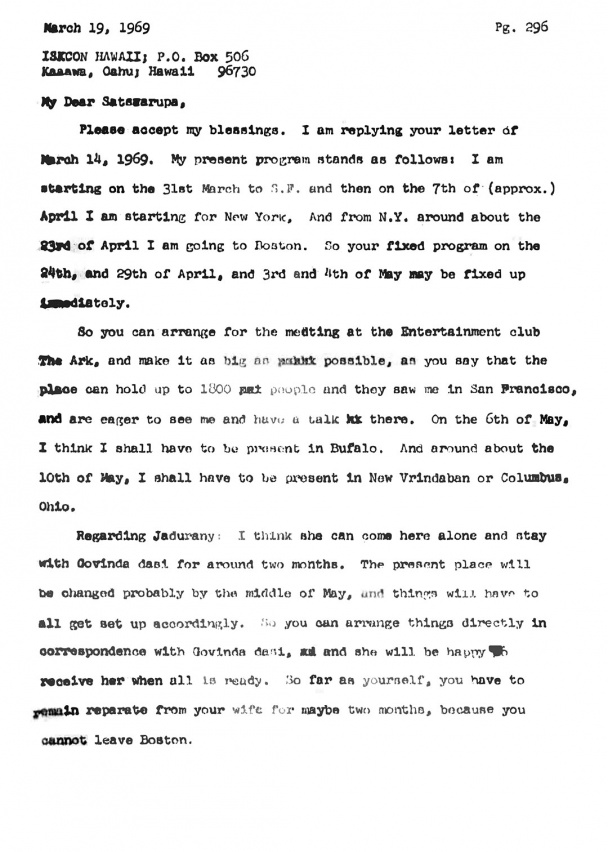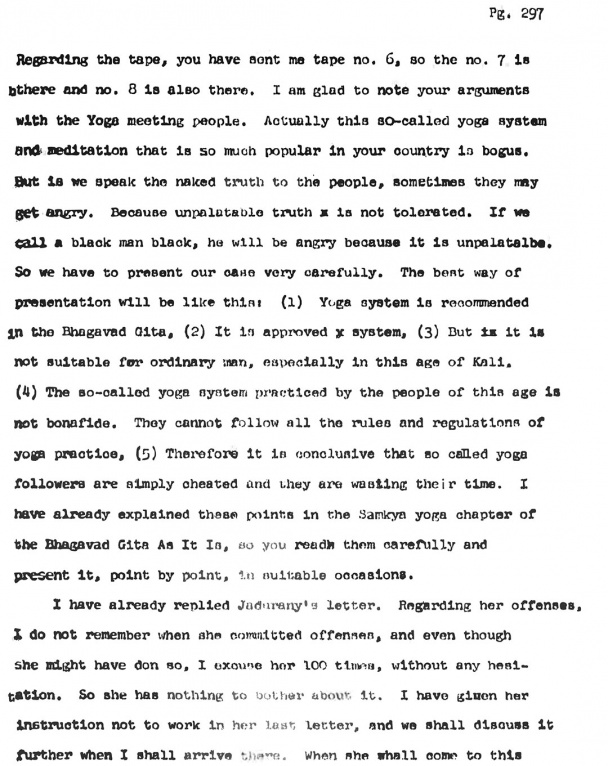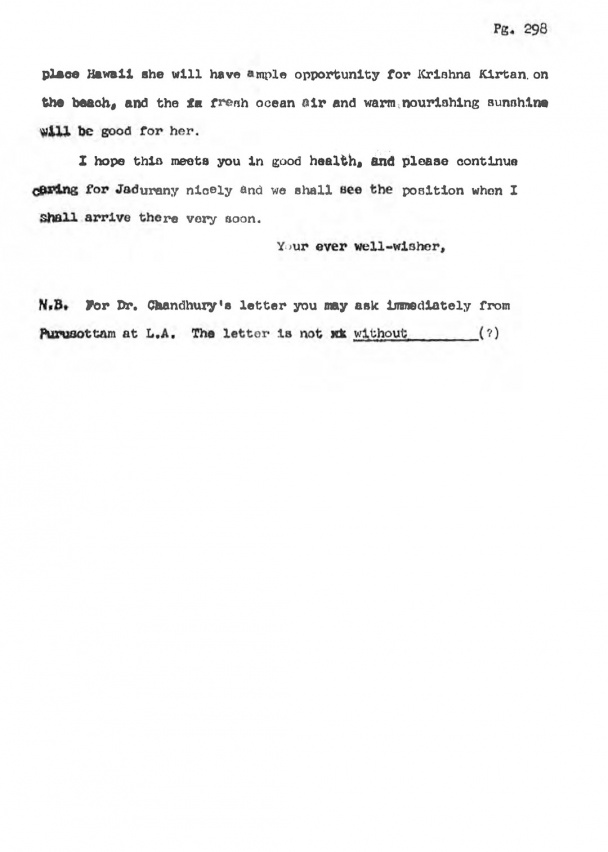 March 19, 1969
ISKCON HAWAII; P.O. Box 506
Kaaawa, Oahu; Hawaii 96730
My Dear Satsvarupa,
Please accept my blessings. I am replying your letter of March 14, 1969. My present program stands as follows: I am starting on the 31st March to S.F. and then on the 7th of (approx.) April I am starting for New York. And from N.Y around about the 23rd of April I am going to Boston. So your fixed program on the 24th, and the 29th of April, and 3rd and 4th of May may be fixed up immediately.
So you can arrange for the meeting at the Entertainment club The Ark, and make it as big as possible, as you say that the place can hold up to 1800 people and they saw me in San Francisco, and are eager to see me and have a talk there. On the 6th of May, I think I shall have to be present in Buffalo. And around about the 10th of May, I shall have to be present in New Vrindaban or Columbus, Ohio.
Regarding Jadurany: I think she can come here alone and stay with Govinda dasi for around two months. The present place will be changed probably by the middle of May, and things will have to all get set up accordingly. So you can arrange things directly in correspondence with Govinda dasi, and she will be happy to receive her when all is ready. So far as yourself, you have to remain separate from your wife for maybe two months, because you cannot leave Boston.
Regarding the tape, you have sent me tape no. 6, so the no. 7 is there, and no. 8 is also there. I am glad to note your arguments with the Yoga meeting people. Actually this so-called yoga system and meditation that is so much popular in your country is bogus. But if we speak the naked truth to the people, sometimes they may get angry. Because unpalatable truth is not tolerated. If we call a black man black, he will be angry because it is unpalatable. So we have to present our case very carefully. The best way of presentation will be like this: (1) Yoga system is recommended in the Bhagavad Gita, (2) It is approved system, (3) But it is not suitable for ordinary man, especially in this age of Kali, (4) The so-called yoga system practiced by the people of this age is not bonafide. They cannot follow all the rules and regulations of yoga practice, (5) Therefore it is conclusive that so called yoga followers are simply cheated and they are wasting their time. I have already explained these points in the Sankhya yoga chapter of the Bhagavad Gita As It Is, so you read them carefully and present it, point by point, in suitable occasions.
I have already replied Jadurany's letter. Regarding her offenses, I do not remember when she committed offenses, and even though she might have done so, I excuse her 100 times, without any hesitation. So she has nothing to bother about it. I have given her instruction not to work in her last letter, and we shall discuss it further when I shall arrive there. When she shall come to this place Hawaii she will have ample opportunity for Krishna Kirtan on the beach, and the fresh ocean air and warm nourishing sunshine will be good for her.
I hope this meets you in good health, and please continue caring for Jadurany nicely and we shall see the position when I shall arrive there very soon.
Your ever well-wisher,
N.B. For Dr. Chandhury's letter you may ask immediately Purushotam at L.A. The letter is ___ __ __. (?)