710902 - Letter to Madhudvisa written from London
From Vanisource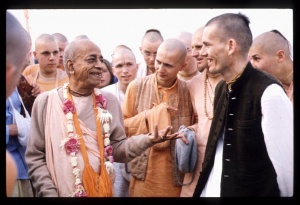 September 02, 1971

My Dear Madhudvisa Swami,
Please accept my blessings. I beg to acknowledge receipt of your letter dated 22nd August, 1971 and have noted the contents carefully. There is some contemplation for my going to Africa on my way to India so if that settlement is made then I shall go there for a few days and then come to Bombay. If no settlement is made then I am coming directly to Bombay and I shall let you know the date later on.
Regarding the Amersey house, whether they want some money under the table? If so, that money will be paid here. We cannot pay anything under the table in India because we have to keep proper accounts. When I saw Mrs. Amersey, she said that her son is in London. So is it a fact? If so, why not her son sees me here?
Jayapataka Swami has made a trial balance and balance sheet of Calcutta branch. So whether you are also doing like that?
Why don't you take the opinion of our life members whether we should go outside Bombay like Chembur or Santa Cruz? In Santa Cruz there is a nice house for sale. Similarly we can get a place in Chembur for a nominal price only. But I do not think that outside Bombay city will be acceptable by you all. I also think in that way, that outside Bombay it will be not so gorgeous. The Nepeansy Road apartment is also good, so if possible why not send me a descriptive chart of the apartment.
Yes, make the arrangement for attracting the younger section. They will like to hear logical philosophy. But generally the younger section in India are spoiled. They still hope to improve their economic condition.
So far going to Madras, I have already sent my decision on the 24th August along with a copy of the letter I wrote to Dr. Bali. I hope you have received it by now.
Hoping this will meet you in good health.
Your ever well-wisher,
A.C. Bhaktivedanta Swami