701128 - Letter to Jagadisa written from Bombay
From Vanisource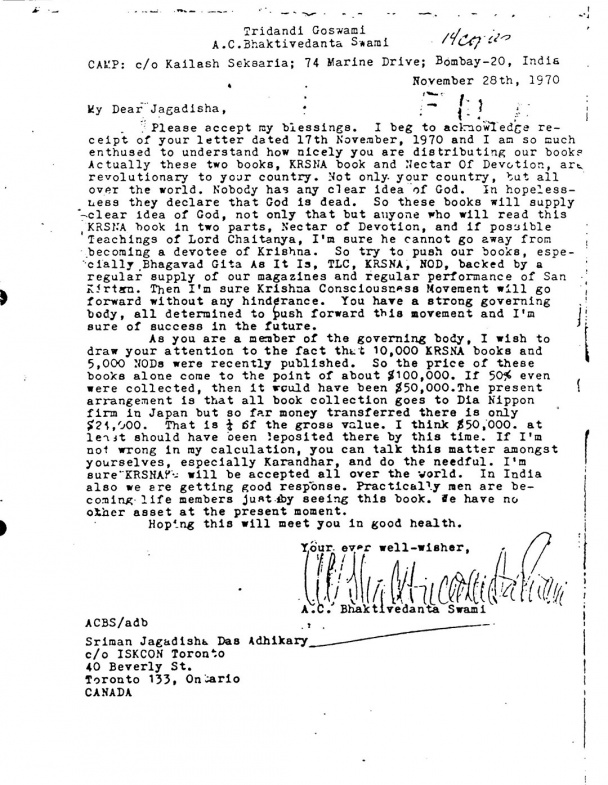 Tridandi Goswami
A.C. Bhaktivedanta Swami
CAMP: c/o Sri Kailash Seksaria; 74 Marine Drive; Bombay-20, India
November 28th, 1970

My Dear Jagadisha,
Please accept my blessings. I beg to acknowledge receipt of your letter dated 17th November, 1970 and I am so much enthused to understand how nicely you are distributing our books. Actually these two books, KRSNA book and Nectar Of Devotion, are revolutionary to your country. Not only your country, but all over the world. Nobody has any clear idea of God. In hopelessness they declare that God is dead. So these books will supply clear idea of God, not only that but anyone who will read this KRSNA book in two parts, Nectar of Devotion, and if possible Teachings of Lord Chaitanya, I'm sure he cannot go away from becoming a devotee of Krishna. So try to push our books, especially Bhagavad Gita As It Is, TLC, KRSNA, NOD, backed by a regular supply of our magazines and regular performance of Sankirtan. Then I'm sure Krishna Consciousness Movement will go forward without any hindrance. You have a strong governing body, all determined to push forward this movement and I'm sure of success in the future.
As you are a member of the governing body, I wish to draw your attention to the fact that 10,000 KRSNA books and 5,000 NODs were recently published. So the price of these books alone come to the point of about $100,000. If 50% even were collected, then it would have been $50,000. The present arrangement is that all book collection goes to Dia Nippon firm in Japan but so far money transferred there is only $21,000. That is 1/4 of the gross value. I think $50,000. at least should have been deposited there by this time. If I'm not wrong in my calculation, you can talk this matter amongst yourselves, especially Karandhar, and do the needful. I'm sure KRSNA will be accepted all over the world. In India also we are getting good response. Practically men are becoming life members just by seeing this book. We have no other asset at the present moment.
Hoping this will meet you in good health.
Your ever well-wisher,



A.C. Bhaktivedanta Swami
ACBS/adb
Sriman Jagadisha Das Adhikary
c/o ISKCON Toronto
40 Beverly St.
Toronto 133, Ontario
CANADA