Jaladuta Diary - July 1965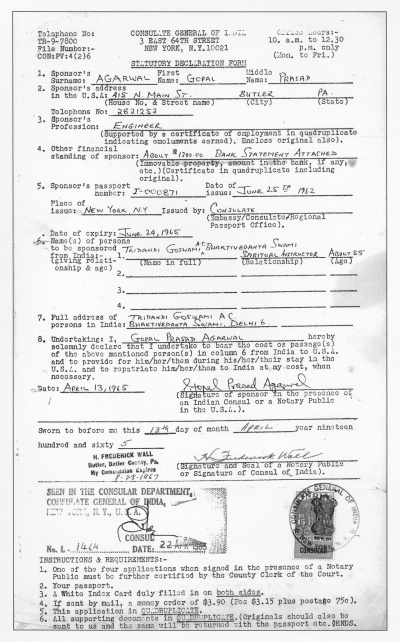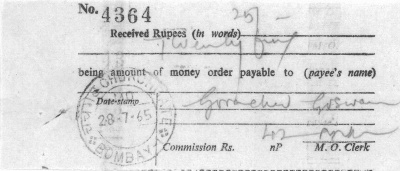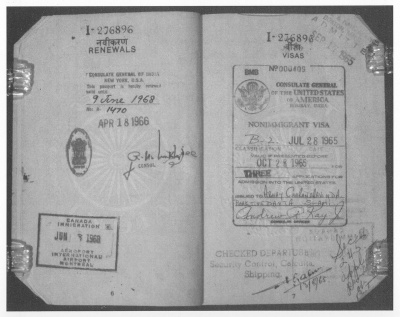 THURSDAY 8
To see Choksi at 12 noon.

FRIDAY 9
To see the Bank Manager
J. M. Choksi
Passport No. I-276896
Dt Delhi 10/6/65
SATURDAY 10
At 3 p.m. to phone Sri Vrajlal Seth.
At 4 p.m. to see Gokuldas Somaya.
SUNDAY 11
At 8 a.m. to phone Tarachand Gupta
MONDAY 12
At 6 p.m. to meet Mr. Pandiwala
Chartered Accountant.
Bangur Brother Pvt Ltd
Netaji Subhas Road
Calcutta
WEDNESDAY 21
Mir Flex par(?) was purchased at
Rs 1/-
ACB
FRIDAY 23
Passport with
Choksi for showing
to Panchal.
SATURDAY 24
Sleeping Berth on
1/8/65 for Howrah reserved
Ticket No. 49031 Dt 24/7/65
Paid Rs 42/70 n.p.
Reservation Ticket No. 21346.
Dt 24/7/65
ACB
Train starting at 1900(?) hours.
TUESDAY 27
"P" Form No. 63753
Ec. Co Pass No. 11012 Dt 27.7.65
Reserve Bank of India.
WEDNESDAY 28
Rs 25/- remitted by m.o. to Gorachand
Goswami before leaving for U.S.A.
June, July, August, September, to October
__1___2____3__________4_________5
My "P" Form & Visa for U.S.A.
obtained by Choksi
THURSDAY 29
Dharwarkar delivered R/d
one package of books Srimad
Bhagwatam (35) booked by Universal
Book House Dadar to Calcutta F. P.
under P.W.B. No. B 678078 Dt 29/7/65
from Dadar. FH to pay Rs 7/50/-
FRIDAY 30
Mr. J.M. Choksi today handed
over me the following documents.
1. The Passport.
2. "P" Form passed Dt 27/7/65
3. Original letter & no objection
certificate from Gopal P. Agarwal.
4. Copies of letters for Calcutta office
Scindia Steam Navigation Co.
5. International Certificate &
vaccination. (3 years & 6 months)